1. Understand what a tracking URL is
A tracking URL allows HubSpot to appropriately bucket the source of a website visit based on a "token" in the URL.
Normal URL: http://www.hubspot.com/inbound-marketing-assessment-product/
Tracking URL (token is bolded): http://www.hubspot.com/inbound-marketing-assessment-product/?utm_campaign=Lead%20Nurturing&utm_source=Fall%20Sales%20Campaign
When the visitor gets to your HubSpot tracked page via a tracking URL, your sources report sees the token and separates that traffic out so you can analyze how well the content containing the tracking URL link performed.
The visits to the example tracking URL above would appear in your sources report under Other Campaigns > Lead Nurturing based on the parameters in the URL.
2. Create a Tracking URL for a landing page
A landing page is the most common page to use a tracking URL for, but you can create a tracking URL for any page with HubSpot tracking code on it (site page or blog post).
Navigate to your tracking URL builder
In your HubSpot Marketing account, navigate to Reports > Reports Home.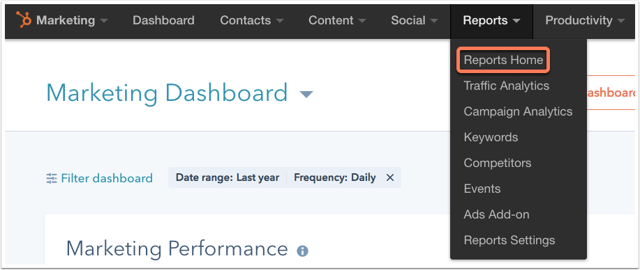 Tracking URL Builder
Scroll down and click Tracking URL Builder in the lower left menu.
Create a New Tracking URL
You'll then be able to create a tracking URL. Click Create a New Tracking URL.
Landing page URL
Add the URL of the page that you would like to link to. This can be the URL of any page with the HubSpot tracking code on it, but for the purposes of this article, we will use a landing page URL.
Please note: the page you are linking to in the tracking URL must have the HubSpot tracking code installed so your sources report detects the visit and can bucket the source of the visit appropriately using the token.
If your page is hosted over https, you can click the gray box with "http://" to toggle the protocol of the tracking URL to https.
Campaign name
Next, choose the campaign name you want visits to this tracking URL to be bucketed under in your sources report. You can select an existing campaign from the dropdown menu, or you can create a new campaign by typing in the name of the new campaign and clicking Create item in the dropdown menu.
Keep in mind that the campaign name will be visible to your website visitors in your URL.
Source
The next step is to choose the source that you want visits to this tracking URL to be attributed to in your sources report. In the dropdown menu, you can select any of the default sources buckets, like Email Marketing or Paid Search.
Once you select the source, you will have more options to add detail to the tracking URL. Depending on which source you select, you will have different options. For example, if you select Email Marketing, you have the option to enter the name of the email. Based on the source you select, you'll see where HubSpot will bucket traffic to your tracking URL in your sources report. For more information on how HubSpot categorizes visits in the sources report, check out this article.
Alternatively, you can create your own custom source which would show up under Other Campaigns in the sources report.
By toggling the advanced view at the bottom right, you can add additional parameters, like a Medium or Term.
Medium - This is an optional field that identifies the type of marketing material you track. For sources bucketed under Other Campaigns, the medium is visible when you drill down into a specific campaign. This is typically the last visible parameter in your tracking URLs that you build in HubSpot.
Term - This is an optional field that isn't used in HubSpot, but can be used in systems like AdWords and Google Analytics to track the keywords in a pay-per-click ad.
Marketing Action Information - These are like post-its for your analytics. Scroll down and name your event, then select the date the campaign is launching. It will appear as a Marketing Event within the sources report, so you can see why there were spikes in traffic/leads on a certain day. This is completely hidden to your website visitors.
Once you have filled out all required fields and any desired optional fields, click Generate, and HubSpot will then generate a new tracking URL for you.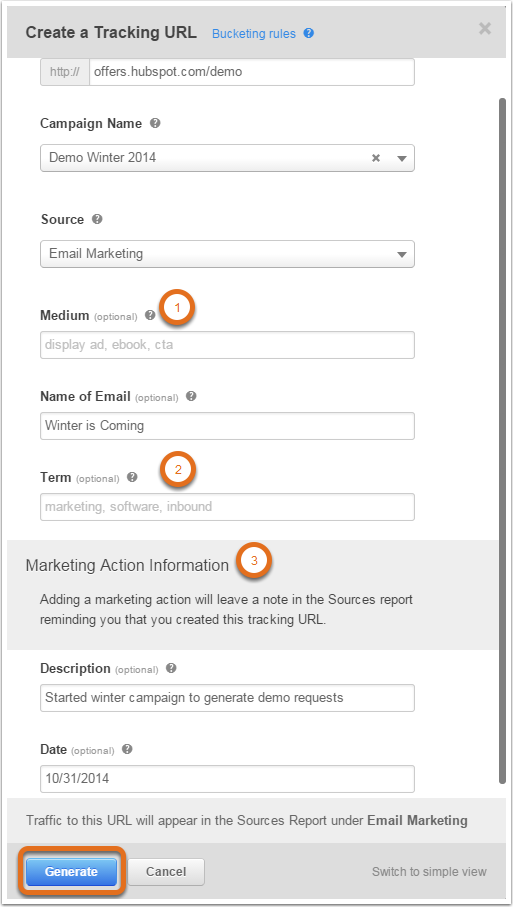 3. Implement your tracking URL
Copy the tracking URL that appears, and use that as the hyperlink in your email, your Google Adwords destination URL, your banner ad, etc. You can choose from the shortened link (perfect for social media) or the full tracking link for other purposes like Google Adwords. You can also generate another URL right from this screen by selecting Generate another.
Please note: if you plan to use HubSpot tracking URLs in Google AdWords ads, please be sure to use the f
ull tracking URL
, and
not the shortened tracking URL
.
Also, it is imperative that you
insert
your full tracking URL into the
Final destination
field
in AdWords ads, not the Destination field. Additionally, the Final destination field will need to contain the same domain as the landing page URL. For example, if your ad's landing page is
http://offers.yoursite.com/demo,
your Final destination field will need to contain
yoursite.com
.
4. Share your tracking URL
Copy the link from your preferred version of the tracking URL by clicking into the desired box in the tracking URL builder page.

Facebook post
For example, if you had built a tracking URL with a source="Facebook" and campaign="email deliverability july 2017", you could use this link in a social media post to a Facebook page.
5. Look at your results
In your HubSpot Marketing Basic, Professional, or Enterprise account, navigate to Reports > Analytics Tools.
Select Traffic Analytics.
In the Sources tab, click into the Social source, then Facebook. Look for the email deliverability july 2017 campaign set for the tracking URL to view its traffic data.
6. Manage your tracking URLs
Once you've created some tracking URLs, you can easily filter by campaign and campaign source on the main screen.
You can also sort by Create Date and search through your URLs using the search bar.
Remove a tracking URL
To remove a tracking URL, select the gear icon and Remove from list. This action will remove the the tracking URL from your dashboard list but, if you've used the tracking URL in previous campaigns, this tracking URL will still work as expected.