Laatst bijgewerkt: oktober 19, 2020
To view and configure your ad account and HubSpot user settings:
Klik in uw HubSpot-account op de instellingenpictogram in de hoofdnavigatiebalk.
Click Marketing > Ads.
Under each ad network that you've connected, click an ad account to view details on the users that are currently connected and have access to manage and create campaigns for the account.
If you're logged in as a different HubSpot user from the original user who connected the ad account, you can connect your own user account to HubSpot, as long as your account has all the required permissions configured in the ad network itself.

Above the Primary [Ad network] User, click Connect user.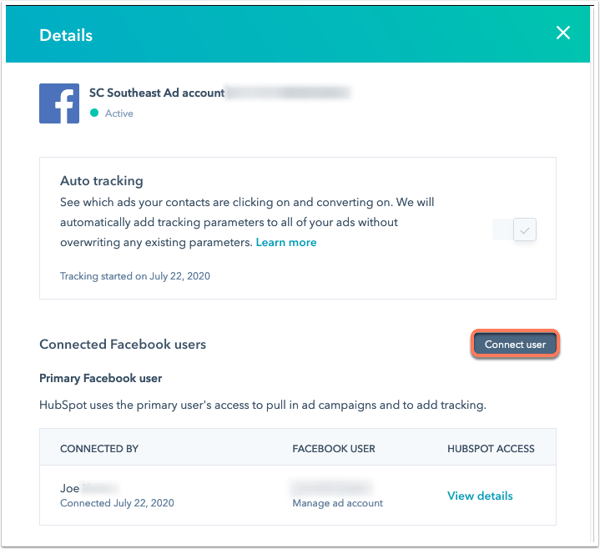 In the pop-up window, log in to your account, then authorize the required permissions for the HubSpot Ads integration.

The new user that you connected will appear under All other [ad network] users.

Assign or disconnect a user
Once you've connected additional users for an ad account, you can assign one of them to be the primary user, who will be authorized to change ad tracking settings for account. You can also disconnect any user, which can be useful if they leave the company and you want to revoke their access to the ad account.
In the Accounts tab of your HubSpot Ads settings, click the ad account that you want to update the user settings for.
In the right panel, below All other [Ad network] settings, hover over the user you want to update, then click the Actions

dropdown menu.

To make that user the primary user for the account, select Replace primary user. In the dialog box, confirm your choice by clicking Replace primary user.
To disconnect the user and revoke access to manage and create campaigns for the ad account, click Disconnect user. In the dialog box, confirm your choice by clicking Yes, disconnect.