In the SEO tool, a topic is a grouping of your content related to a specific topic. Your content can come from your HubSpot content (blog posts, landing pages, and website pages) and your externally hosted content.
A topic includes your main topic (pillar page) and subtopic keywords linked to related content. All subtopic keyword content should include a link to your pillar page to establish authority for your topic in search engine results.
Please note: you can create new topics automatically based on your existing HubSpot pages and blog posts using the content auditing feature.
Create a new topic
In your HubSpot account, navigate to Marketing > Planning and Strategy > SEO.

In the upper right, click Create a topic.

Enter a topic in the text field, then click Add.

Review the topic's Monthly Search Volume and Difficulty validation metrics, which you can compare with the validation metrics for Recommended Topics.

To view topic validation data for a different location, use the Country dropdown menu in the upper left.
After reviewing the data, select a topic.
In the bottom left, click Create Topic.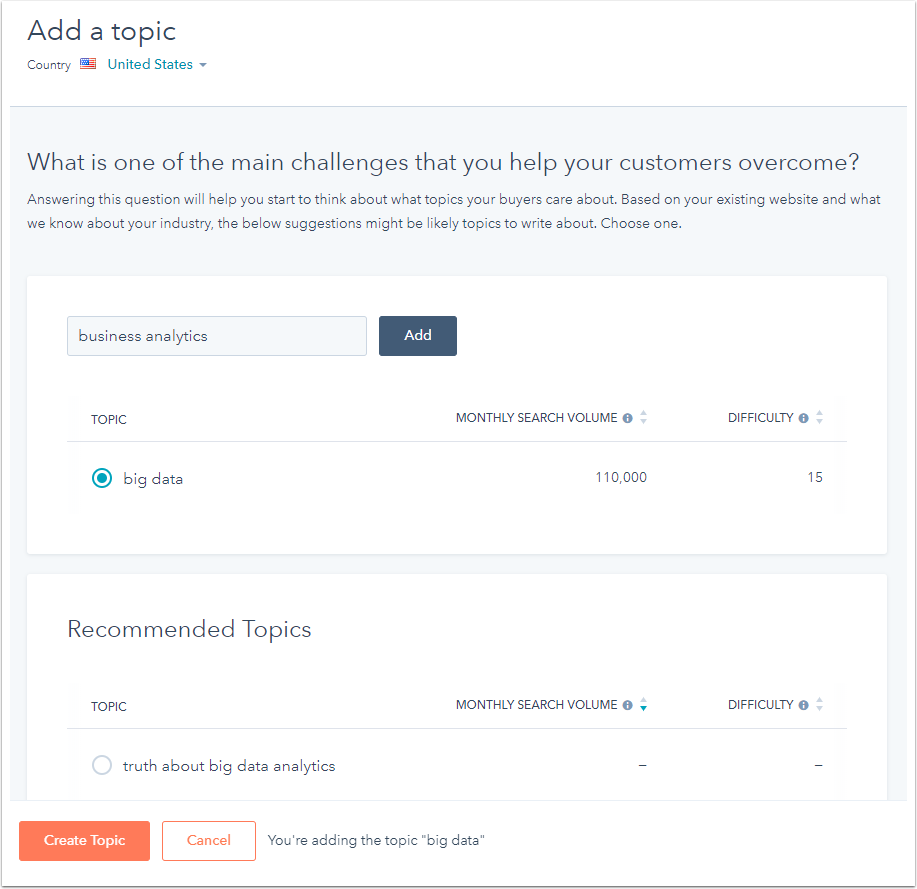 Add a pillar page
Once you've created your topic, click Attach content to attach a pillar page, which is

the authoritative source that all of your subtopic content links back to.

In the right pane:

Click Create a landing page to create a new page.
Click Add external URL to link to an external resource.
Use the Select pillar page search bar to search for and add a HubSpot blog post, landing page or website page.
The Most Relevant Content section will automatically display any existing content that is most related to your topic.
Select your pillar page, then click Save.

Add subtopic keywords and content
Please note: your subtopic content should include a link back to your pillar page.
In the upper right, click Add subtopic keyword.
In the right panel, enter a subtopic keyword, then click Research Subtopic Keyword. You'll see metrics for the average monthly searches for the subtopic keyword, along with a listing of similar subtopic keywords.
Select your subtopic keyword, then click Save.
Next, you'll be prompted to attach content to this subtopic keyword.
Click a piece of suggested content to attach it to your subtopic keyword. To attach another page, blog post, or URL:

Use the Subtopic content search bar to select an existing HubSpot blog post, landing page, or website page.
To create a new piece of content, click + Create a post.

Use the Content type dropdown menu to select the content type:

blog post, landing page, or website page

.
Enter a title for your new page or post, then click Create to attach your new draft content.

To attach an external page to your subtopic keyword, click Add external URL.
After you've attached your support content, click Save.
Please note: each piece of content can only be attached to one topic or subtopic keyword in the content strategy tool.

Add related content to your topic
The SEO tool can search for published pages and blog posts related to your topic phrase. These related topics are generated from pages on your tracked domains combined with third party data. If the tool finds any related content, the Add Related Content button will be active. You'll see a red bubble with a number indicating how many pieces of related content were found.
In the upper right, click Add Related Content.
Select the checkbox(es) next to related content you want to add to your topic.
Click Add to Topic.
Please note: if a piece of content is already attached to a topic or subtopic keyword, it won't be included in this related content search.