You can create new topic clusters automatically based on your existing HubSpot pages and blog posts using the content audit feature. Following the topic cluster model to cross-link your pages can boost your SEO and makes it easier for visitors to navigate your content.
Please note: the content audit feature is only available if you do not have any existing topic clusters. If have existing topic clusters already and you'd like to use this feature, you can delete your existing topic clusters to add your topic clusters with content auditing.
To use content auditing to create new topic clusters from your existing HubSpot content:
In your HubSpot Marketing Hub Basic, Professional, or Enterprise account, navigate to Marketing > Planning and Strategy > Content Strategy.
Click Set up your strategy.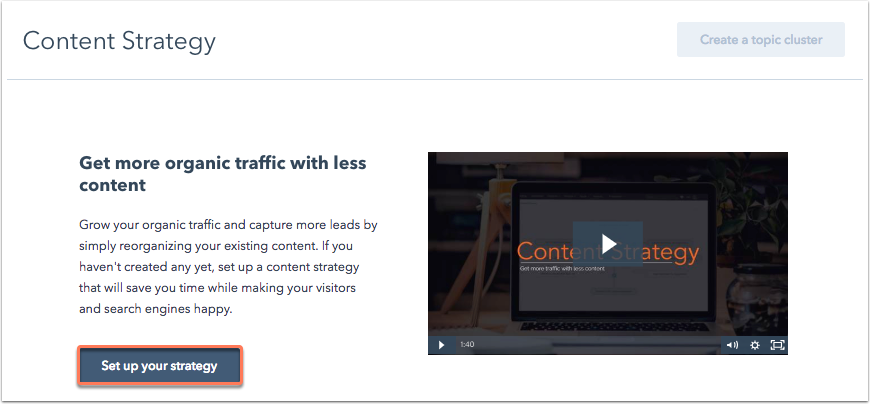 On the next screen, click Start website content audit. The tool will search your existing website content for recurring phrases to create some suggested core topics. The domains listed in your domain manager and any external domains you are tracking will be searched.
Review your Core topics and type to make any desired changes. You can also delete any core topics you don't want to use. Then click Next.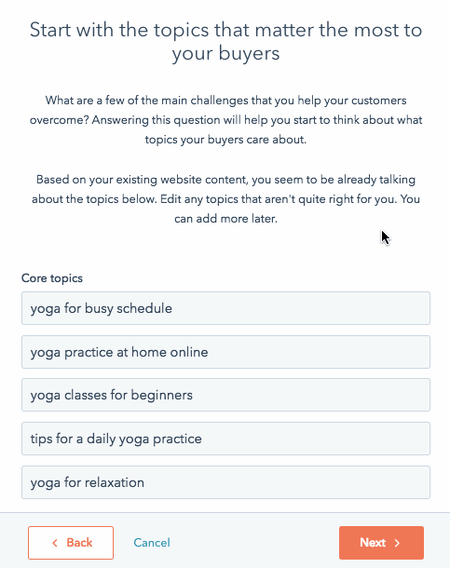 After scanning your existing content, you'll see a series of proposed topics. If a relevant pillar page is detected you'll see it attached, along with supporting content for subtopics. You can click the checkbox to skip any proposed topic cluster you don't want to add.