Follow along with the video or written instructions below to edit a menu within an Advanced Menu module. To learn how you can edit a Simple Menu module, please click here.
In order to make edits to your menu, you'll first need to determine which menu is being used on your page (if you know which menu is being applied, you can skip to the instructions to edit your menu items).
Navigate in HubSpot Marketing to Content > Landing Pages or Website Pages.

For your blog, navigate in HubSpot Marketing to Content > Blog > More tools > Manage blog template to access the appropriate template.

Find the page for which you'd like to edit the menu and click the gear icon to the right, then select Edit.
Click the Settings tab at the top of the editor, then scroll down to Template Options and click the Edit Template button.
When you have arrived at your template, locate the Advanced Menu module (Note: Your menu may be within a global group in your header or footer. If this is the case, click the gear to the right of your global group and select Edit Global Group to access the group's modules).
Click the gear icon to the right of the Advanced Menu module and select Edit Options.
Scroll down to the Menu section and take note of the menu that's set in the dropdown.
Now that you know which menu is being used in the template, you can make edits to the menu items:
Navigate in HubSpot Marketing to Content > Content Settings > Advanced Menus (under Content Optimization System Options).
From the dropdown, select the menu that's being applied within the template.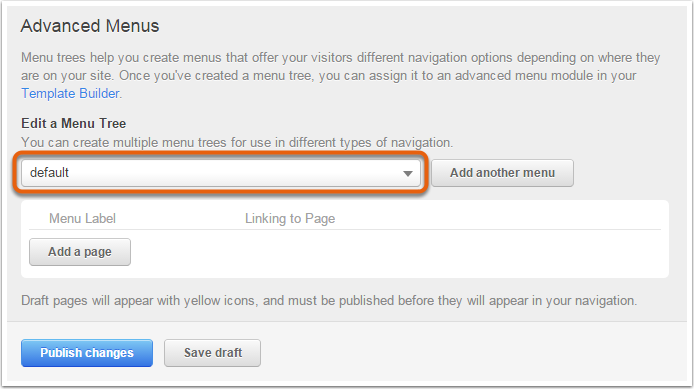 You can now edit the Menu Labels and/or the pages being linked by each menu item. Click and drag the menu items to reorder them or add new items by clicking on the Add a Page button. To learn more about setting up your site's navigation options, check out this article.
Once you've made your edits, click Publish Changes. Your changes will be automatically applied wherever this menu appears.