Smart Content on pages is a feature that is accessible to Professional and Enterprise subscription levels. This feature gives you the ability to personalize content for your visitors.
First, navigate to Content > Website Pages or Landing Pages, locate the page in question and access it for editing.
Once inside the page's editor, find the Rich Text, HTML, CTA or Form module you wish to Make Smart.
Mouse-over the module > click the Smart icon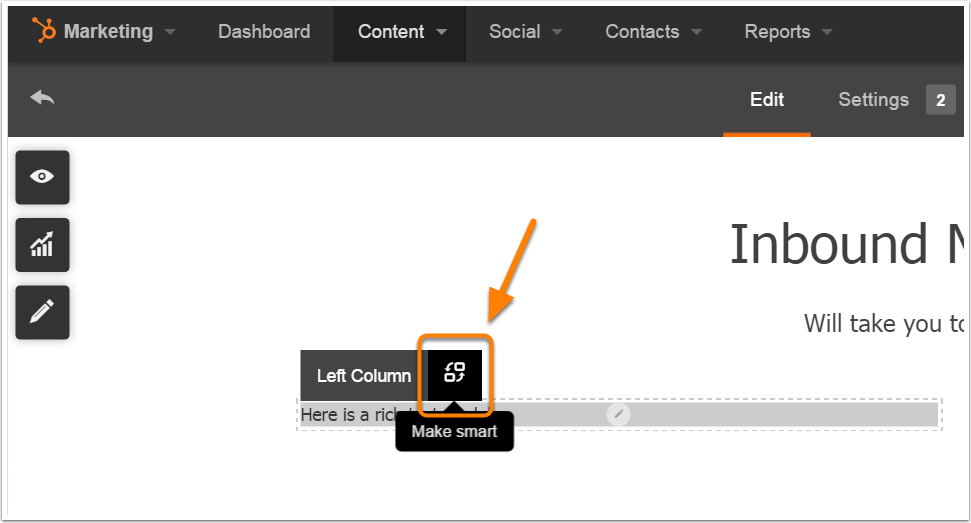 Select the criteria for your smart content:

Country - Display content to your viewer based on their country. The country is determined by the IP address of the visitor.
Device Type - Specify which device this smart content is centered around (mobile, tablet, or desktop).
Referral Source - Show visitors your smart content based on how they found your site.
Preferred Language

- Personalize your content based on the language set within the user's web browser.

Contact List Membership - Show a contact in your HubSpot database certain content dependent on whether or not they're a member of one of your HubSpot lists.
Lifecycle Stage - This will look at the lifecycle stage property of a contact in your HubSpot database and display the relevant content based on the value of this field.
Please note that the first four choices of Country, Device Type, Referral Source, and Preferred Language can be chosen for contacts and customers as well as anonymous visitors.
After making your choice, click on Next step and then select the specific country/device/source/language/list/lifecycle stage to center the smart content around.
On the next screen, you will see two rich text modules -- On the next screen, you will see two rich text modules -- one is for any visitor that does not meet the Smart content rules (Smart default), and the other is for you to enter the content that contacts who do meet the Smart content rule will see.
In the example below, a rule for Country > United States was selected. The rule's content will display for those visiting from the United States, while the default content will display to those visitors viewing the page in all other countries.
Success! You have now set smart content on you page.
Related Articles: