You can create a new drag and drop email template using the design manager tool. Before designing your email template, it's important to plan your content so you can add the modules you need. If you're looking for design inspiration, you can explore examples on our marketing blog.
Create a new email template in HubSpot
In your HubSpot Marketing Hub Basic, Professional, or Enterprise account, navigate to Marketing > Files and Templates > Design Tools.
Click File > New file in the top corner of the finder.
In the first dialogue box that appears, click Drag and drop

.

Use the

Template type

dropdown to select

Email

.

Enter a

file name, and the review the

File location

where this file will be saved. You can click

Change

to save your new template in a different folder if you wish.

Click

Create

to open your new template in the design manager.
The following modules will be included in your drag and drop email template by default:
View as Web Page: this module generates a link to a web page version of the email.
Logo: the logo module pulls the logo you have set up in content settings.
Main Email Body: this is a rich text module for the main content of your email.
Office Location Information: this module populates the email footer information (company address and subscription links) from your content settings. This module is

required

in order to save an email template.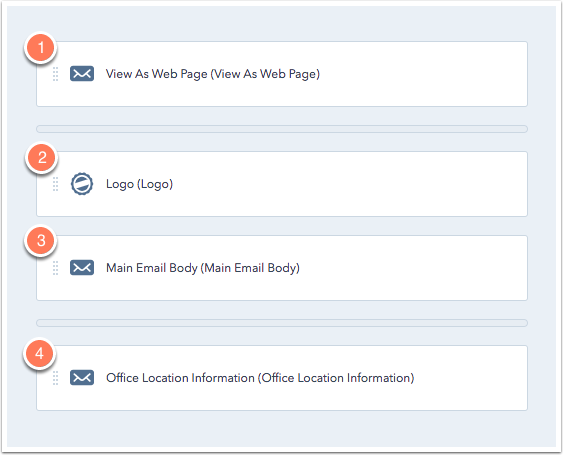 Customize your template
You can add more modules to your template using the inspector on the right-hand side. Click + Add in the inspector to search for modules to add to your drag and drop template layout.
In order to customize the styling of your email, you can use the inspector in the right sidebar. It is not possible to attach CSS or Javascript files to an email, but you can add custom HTML markup, body classes, and inline styling to the template.
If no specific modules are selected, you can add styling to the head of the template itself in the inspector. You can click directly on a module or group to access styling options specific to that component.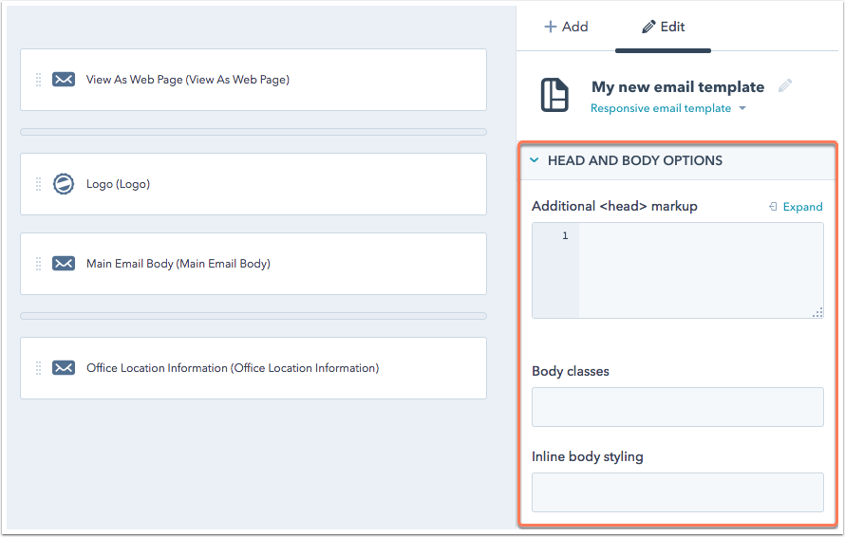 Preview your template
Click Preview in the top right corner of the editor to see what your email will look like to your contacts.
If you choose Live preview with display options you can view your preview as it appears on other devices, such as a tablet or mobile phone. You can also use the arrow buttons to specify a custom screen size, and use the options in the top right to adjust the zoom and rotation of the screen.