With the HubSpot mobile app, you can scan your business cards to create contacts. The business card scanning feature is available for Android and for iPhones on iOS 11 or higher.

Open the HubSpot app on your device.
In the bottom navigation bar, tap Contacts.
Tap the + icon.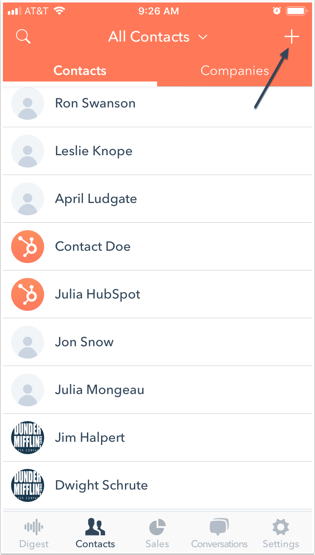 Hover your device over the business card and take a photo.
Keep these best practices in mind when you scan business cards:

Ensure there isn't any severe glare on the card.
Ensure the card isn't too blurry when the camera attempts to read it.
Ensure there's adequate lighting.
Please note:
with effect from October 10, 2018, contacts scanned from business cards
will have an
Original source drill-down 1
of
MOBILE_IOS
, and
Original source drill-down 2
of
business-card-scanner
. Contacts scanned from business cards before October 10, 2018 will

not

have the Original source drill-down 1 or 2 values retroactively set.