Enabling blog auto-publish in social settings will automatically post your blog content to your social platforms the next time you publish content to your HubSpot blog. The content published to your social media platforms includes the blog title, blog featured image, and blog meta description. This is currently only available for Twitter, Facebook, LinkedIn, and Google+ business pages. Social posts will be published 15 minutes after the blog post is published.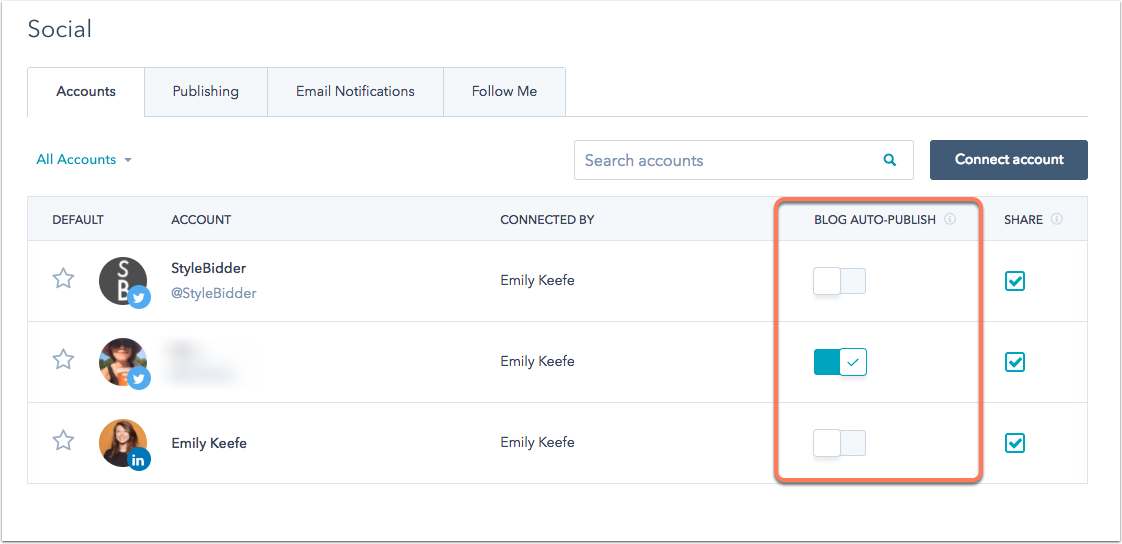 If your blog is hosted on your HubSpot blog tool, you will also need to enable the feature for each blog:
In your HubSpot Marketing Basic, Professional, or Enterprise account, navigate to Content > Content Settings.
Click Marketing > Blog in the left sidebar menu.
In the Social Sharing tab, select the checkbox next to Enable social media auto-publishing.
Click Save.
If you have multiple blogs for which you'd like to enable social media auto-publishing, scroll back up to the top, choose another blog from the dropdown menu, then repeat the steps above.
Please note: if you have enabled social media auto-publishing for multiple blogs, it is not possible to specify which connected social media accounts get posted to for each blog. When a blog post is published on any blog with social media auto-publishing enabled, a message will be posted to each social media account that has auto-publish set to On in your social settings.
With auto-publish configured in your social media and blog settings as shown above, you can also set a unique message that will be auto-published to social media channels for each individual blog post within the post's editor:
In your HubSpot Marketing Basic, Professional, or Enterprise account, navigate to Content > Blog.
Find and edit an existing draft post or click Create blog post.
Go to the Settings tab and scroll down to Advanced Options.
Under Social Publishing, edit the message under Social media message text. If left blank, the social message will simply use the blog post title.
When ready, click Publish or schedule to either publish your post immediately or schedule it for publication at a later date and time.