HubSpot automatically uploads an image for contacts and companies using a proprietary database of images collected from multiple sources, including social media. When no image for a specific contact can be found, HubSpot uses an image associated with their name or email domain.
Please note: record images are used internally to identify contacts or companies in your HubSpot account; your contacts and companies cannot see record images.
To change or remove the image on a record in HubSpot:
In your HubSpot account, navigate to your contacts or companies.
Click the contact or company name.
Hover over the contact or company's image and click the pencil icon

edit

.
To remove the current image, click Remove image. To change the image, click Upload image.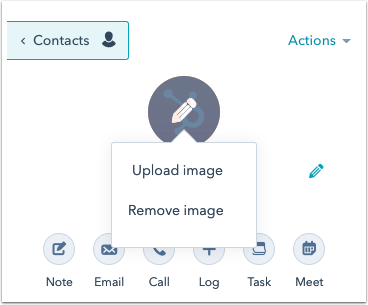 If you're uploading a new image, click Choose file. Select the image file, and click Open.
Click Confirm to set the new image.
If the new image does not appear immediately, try refreshing the page.