Analytics views are filters that you can use in the Sources tab in the traffic analytics tool. It allows you to divide the traffic sources per filter.
Marketing Hub Professional or Enterprise accounts can create analytics views for subdomains that are part of your account's brand domains. Users can create up to 25 custom views.
Please note: if you've purchase a brand domain add-on, you can create 25 additional custom analytics views for any of your brand domains.
To access and work with custom analytics views:
In your HubSpot account, click the settings icon

settings

in the main navigation bar.
In the left sidebar menu, navigate to Reports

> Tracking code.
Click the Analytics views

tab. You can see your existing custom analytics views in the Custom analytics views table.
Hover over an existing view and click Edit to make any changes.
To create a new view, click + Add another view.

Enter a view name.
Click the following options to select properties for your analytics view:

Country: the country of the visitor based on their IP address.
Subdomain: the subdomain of the page being viewed. You only need to include the

subdomain

of your target domain, such as www or blog. For

sessions

, HubSpot will display data for this filter where sessions started on the specified subdomain.
Brand domain (brand domain add-on

users

only): your brand domains.
Top-level domain: the end of the domain that comes after the brand domain. (e.g., "com" is the top-level domain for "www.hubspot.com")

.

URL path starts:

the starting characters of the URL path of the page being viewed.
URL path contains: text contained in the URL path of the page being viewed.

Click Apply filter.
Click and to add any additional properties, then click Save.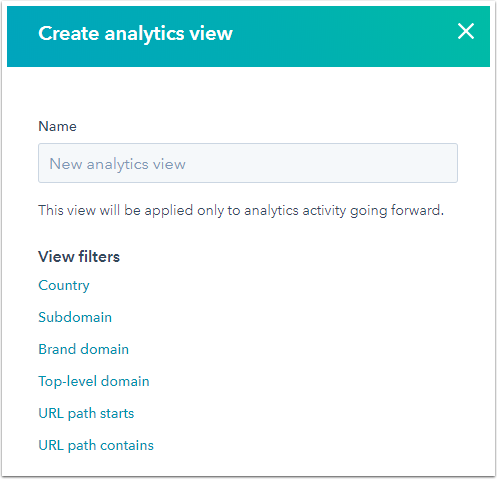 To delete a view, hover over the view and click Delete.