It is recommended that stylesheets are created in Design Manager and attached to the template. This ensures that all content created with that template uses the referenced CSS file.


Template-level attachment (recommended)
To attach a stylesheet to a template:
Navigate to Content > Design Manager > click the name of the template where you want to attach your stylesheet.
Click Edit > Edit Head.
In the 'Head Options' pop-up window and click + Add Stylesheets.
Select the stylesheet, click Add, Save, and Publish Changes. Please click here if you would like to learn how to create a custom stylesheet, which you can later attach to your pages and templates.
You may also want to disable the domain stylesheet and Primary CSS if they are not in use by the template.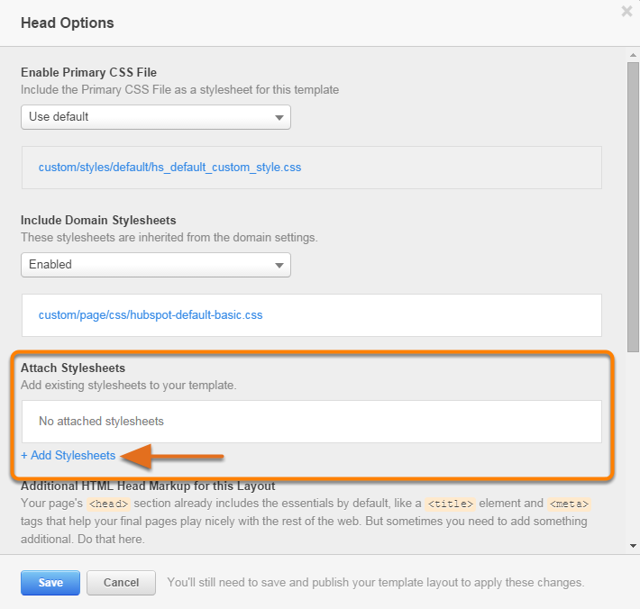 Domain-level attachment (not recommended)
To attach a stylesheet other than Primary CSS to your entire site, navigate to Content > Content Settings and then choose your style from the default page style drop-down menu in Page Publishing options. You also can disable Primary CSS (not recommended) from this settings page.

Page level attachment (not recommended)
You can choose a style at the page level, while editing the page. In the Settings tab of a website page or landing page that you are editing, you can add a page specific CSS file. You can also use the Style option on any module to make WYSIWYG changes to the look of particular pages.