Navigate to Design Manager
Use the Template Builder to create new template for a system page. In this example we will create a template for your 404 error page. Follow these instructions to learn how to use Template Builder to structure your site.
Navigate to Content > Design Manager.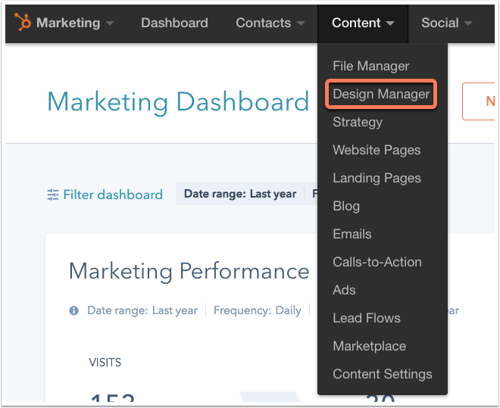 Create a new template
To create a new template, click the blue button on the right side of the app. Depending on whether you have a template folder or a coded files folder selected the button will say New template or New coded file. Either way, you can always choose whether or not you want to create a template or a new coded file after you click the button.
If you are already working on a template or coded file, you will want to click +Tab new tab.
Select the type of system template
Select Template Builder, System, and then the type of system page you would like to create. Remember some system pages have their own special module types. In this example, you will create an error page.
Click Create and name and save your template.
Customize template
Best practices
Below are some tips to keep in mind, while building out your system templates.
Error messages templates are an opportunity to create goodwill with your users in a non-ideal situation. Use 404 templates to suggest other options of content or provide a search modules. 500 error pages present an opportunity to use humor to diffuse a frustrating situation. A classic example of this is Twitter's "fail whale", which surfaces whenever Twitter is over capacity or having some other type of outage.
Sometimes your email recipients may choose to opt out from a particular email type or from all of your email communications. Subscription pages give you another opportunity to engage with your recipients. For example, on a subscriptions update template, you may want to inform your users how they can opt back in to particular email types or all emails, in cases they unsubscribe, but later change their mind.
Once you have saved your template, you will want to structure your template. You can attach stylesheets to your custom system page at the template level.
You may also want to customize the default content. Click the gear icon on the module that you would like to edit and choose Edit Options. This will allow you to edit the default content for that module.
You will not create pages from this template. Instead the system creates pages based on the user, when they encounter one of these pages; therefore, the default content defines what the end user sees.
To learn more about editing default content, check out this article.
Select the system template in Content Settings
Navigate to Content Settings > Content Settings.
Select your error and password prompt page templates
Click the System Pages tab. In the Custom system pages section, you can select your 404 error page, 500 error page, and Password prompt page templates. When you're done, click Save at the bottom left.
Select your email subscription page templates
Navigate to Marketing > Email in the left sidebar menu.
Click the Subscriptions tab. Here, you can select your Subscription preference, Unsubscribe backup, and Subscription update confirmation page templates. When you're done, click Save at the bottom left.