In your content strategy tool, you can add an internal link between your core topic pillar page and your subtopic. Part of the theory behind topics over keywords lies in the hyperlinking of the supporting pieces of content (your subtopics) to the main topical piece of content (your pillar page); these internal links contribute to this framework for increasing organic traffic.
How to validate your internal links
In HubSpot, you can validate these internal links right from your content strategy tool following the steps below:
In your

HubSpot

Marketing Hub Basic

,

Professional

, or

Enterprise

account

, navigate to Content > Strategy.
Click the name of the topic cluster you wish to validate links for.
Any link icons in green indicate that HubSpot has found an internal link between your subtopic content and core topic/pillar page.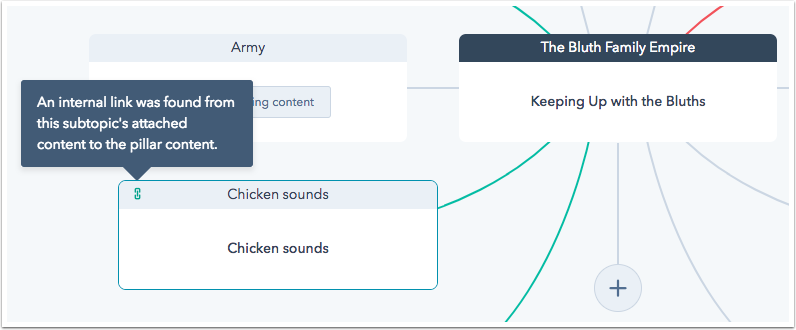 Click the subtopic bubble to see the supporting content with the internal link.
If your subtopic content is hosted on HubSpot, you can add a link to your pillar page. Click the name of the subtopic content to access the content's performance page. Then, click Edit at the upper right and add a hyperlink within the content's body that links to your pillar page, then update your content.
What to do if your internal links are not validating
If you have added internal links in your subtopic content to your pillar content, but your internal links are still not detected, below are some factors to consider:
It can take up to four hours for the crawler to complete the crawl once you click to check for links.
The page must have the HubSpot tracking code installed. You can check that the tracking code is firing correctly as detailed in this article.
The page must be crawlable and not blocked by a robots.txt file.
Is the link an anchor text link? The link needs to be present in the page source of the subtopic content in this format: <a href="https://www.hubspot.com">our home page</a>
Please note: CTAs are not anchor links. They are JavaScript snippets that redirect to your destination URL. Since the link to the destination is not present in the body HTML of the page, Google's crawlers will not detect it as an internal link.
Does the anchor tag in the page source match the format of the pillar page URL as you have entered it in your content strategy tool?

If your link in the subtopic content is hardcoded as http, but your pillar page is now on SSL, you will need to make the link https.
If your link in the subtopic content contains a trailing slash but the pillar page does not, you will need to make them consistent, as those are technically different URLs that can direct to different webpages.
Relative links will be detected without issue. Either the absolute URL (https://www.mydomain.com/my-subtopic-page) or the relative URL (/my-subtopic-page) will work.