When you're building your website in HubSpot, you'll spend some time organizing the information architecture of your content. Your navigation menu will include the most important pages that your website visitors will want to access quickly or frequently while browsing your site. After you've organized your website and its menus, you can customize your sitemap in HubSpot.
Create a new navigation menu
An advanced menu could contain a few important pages from your site, or have a hierarchy of pages using parent and child menu items. These advanced menus can be selected in an advanced menu module in your templates in the design manager.
Navigate to your advanced menus tool
In your HubSpot account, click the settings icon settings in the main navigation bar. In the left sidebar menu, navigate to Marketing > Web pages. Then click the Advanced Menu tab.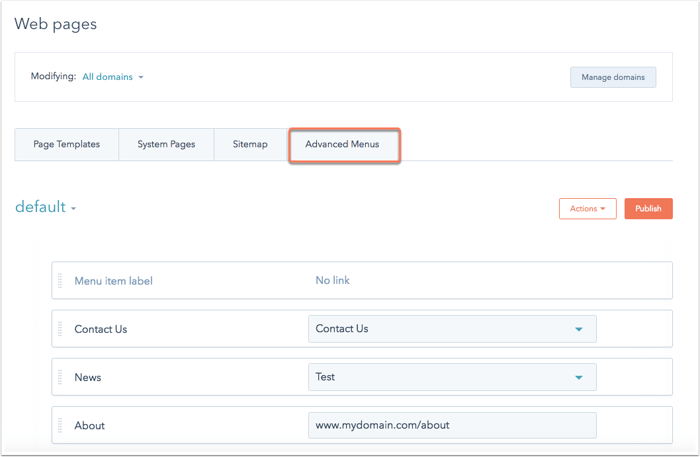 Select or add a menu
Your default menu contains the pages that will automatically populate the default content of an advanced menu module. Use the dropdown menu to select an existing menu to update, or click + Add menu to create a new menu.
To create a new menu by creating a copy of an existing advanced menu, click Actions > Clone in the top-right corner.
Add new pages to the menu
Hover your mouse above or below an existing menu, then click the + icon and select a new item to add to the navigation:
Add item without

link: adds another item to your menu that doesn't link to an existing page. This is often used as a placeholder for child menu items.
Add page link:

adds a menu item that links to a specific HubSpot page.
Add Page link with URL parameters: adds a menu item that links to a specific HubSpot page. With this option, you can type to enter the exact URL of the page you want.
Add URL link:

adds a menu item that links to a specific URL.
You can also add a menu item by hovering over the right side of an existing item and clicking Actions > Add item below.
Give your new menu item a name in the Menu item label, then select a HubSpot page or enter a URL for this menu item if you want this item to be linked.
If you would like this link open in a new window, hover over the right side of the menu item and click Actions, then click the Open link in new window checkbox.
Add child pages to a menu item
To add a new child page to the menu, hover over the right side of the menu item where you want this child item to live. Click Actions > Add child item below and enter the Menu item label and Select a page for the link. If you need to enter a URL manually, click Actions and select URL Link to change the child menu item type.
Child pages appear in a dropdown menu or fly out submenu. If you're comfortable writing and editing CSS, you can add custom styles to your menu.
Save and publish your menu
To finalize the changes you've made, click Publish. This menu will now be available to add to an advanced menu module.
Create a secondary menu
You can create multiple menus for your site. A secondary menu could be used on a specific page, or to provide additional navigation in your page footer.
In your advanced menus tool, click the + Add menu button. Enter a name for your menu, then click Create menu. Complete the steps outlined above to set up your new advanced menu.