If you're a member of HubSpot's Solutions Partner Program or an agency that's inbound certified, you can create a profile with your company information to share publicly on HubSpot's Solutions Directory and make it easy for HubSpot customers to find you.
In your HubSpot account, navigate to Partner > Directory Info.
Business information
In the Business Information tab, you can add details for your company profile:
Enter your company name and website.
You can also add your office location.

If your company has multiple locations, you can click Add another location to enter a new location. Your company profile can list up to five office locations.
If one of your office locations is in the United States, you can enter the state of the office.
Please note: if it is determined that you don't have an office in a location listed on your profile, HubSpot will remove the location.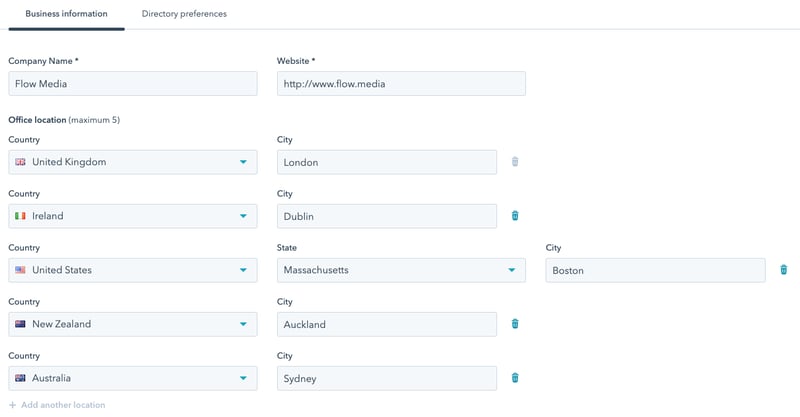 Enter a description for your company.
If you have a company logo, click Upload a new logo to add your logo.
After entering your business information,

click to toggle the

Publish your profile to the HubSpot Solutions Directory

switch on.

Click Save.

To view your directory profile, click View directory profile in the upper right.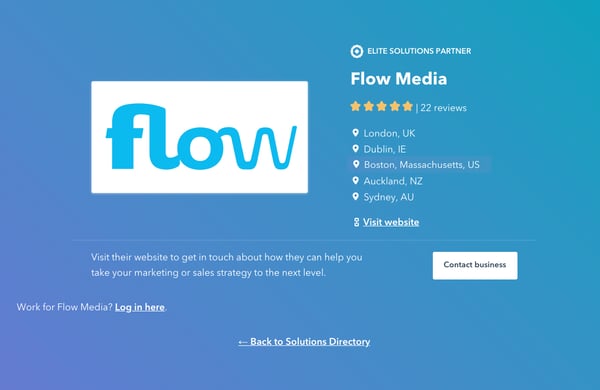 Your profile will appear when filtering the directory to the countries or states you entered when creating your profile.
Directory preferences
Next, click the Directory preferences

tab. Here, you can customize the following preferences:
SEO tools: Add a meta description to improve the discoverability of your listing in the Solutions Directory.
Your services: Select the service(s) that your company offers so customers can find a match for what they're looking for.
Industry: Select the industry or industries that your company specializes in.
Languages: Select the languages your company serves customers in.
Budget: Select a budget range for your company's services.
Region: Select the region(s) your company serves customers in.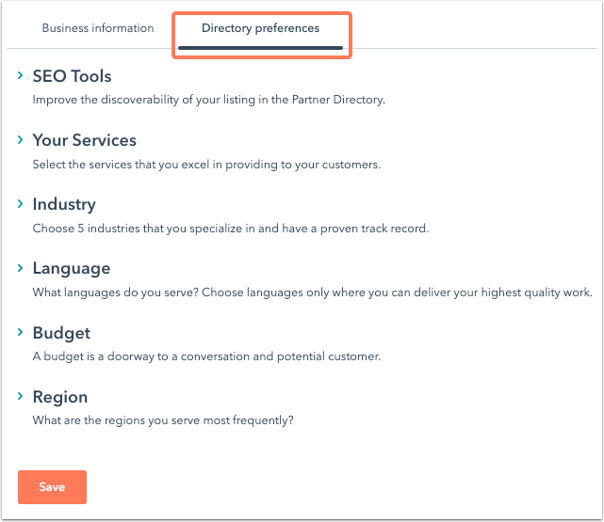 For more information and assistance with the HubSpot Solutions Directory, check out the HubSpot Solutions Directory FAQ.