As a HubSpot partner, managing your clients and partner tier is important to your business. Use the partner dashboard to view and manage your clients, understand your partner tier, and reach the HubSpot team that supports you as a partner.
View and manage your clients
In your HubSpot account, navigate to Partner > Dashboard.
In the Alerts section, view the number of upcoming renewal decisions.
In the Clients list section, view a table of your client's information, including the products they own, the relationship, their usage of the HubSpot product, and the monthly recurring revenue associated to them.

To

access more information on

an existing client, hover over the client, click the

Actions dropdown menu and select one of the following options:


Client details: view the specific client's details in the right panel.

In the Clients Details tab, view the client's company information, the subscriptions they have with HubSpot, and their contact and email tiers.
Click the Renewals tab to view the current renewal communication owner, the HubSpot renewal manager, and details, including the start dates, of the current subscription and renewal subscription.
Click the Portal usage tab to view the products and apps that the client is using.

Company in CRM: access the company record of your client in your companies dashboard.
Go to clients account: access the client's HubSpot account.
End services: remove the client from your clients list.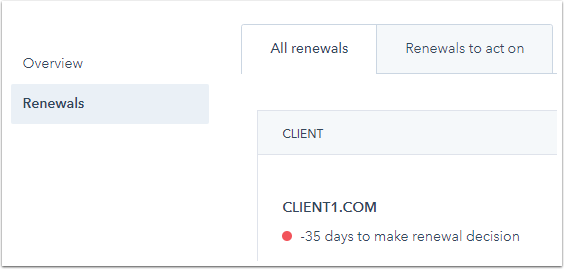 View your partner tier
In your HubSpot account, navigate to Partner > Dashboard.
Click the Partner Tier tab.
View your current credited tier, current performance, median app usage, and partner certified status.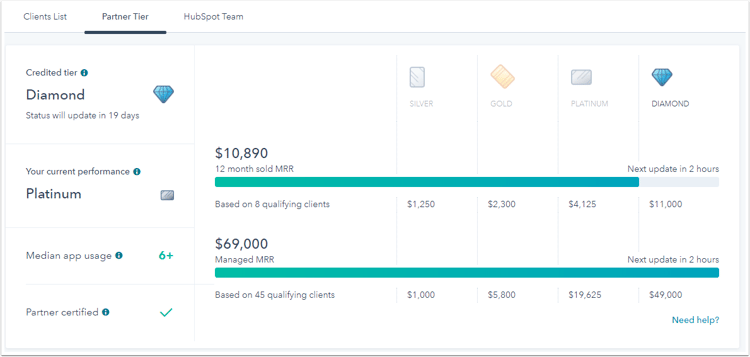 View and reach your HubSpot Team
In your HubSpot account, navigate to Partner > Dashboard.
Click the HubSpot Team tab.
View your current Channel Account Manager and Channel Consultant, with a brief description of how they support you as a partner.
Click Send email to send your Channel Account Manager or Channel Consultant an email with your queries from your default email client.