Reports Home is a hub where you can see all of your past reports, create new reports and look into trends and suggestions based on your marketing performance. Use the Reports Home dashboard to quickly see basic numbers and statistics about your marketing and dive deeper into reports and suggestions.
1. Navigate to Reports > Reports Home
2. Analyze your Marketing Trends
At the top of the Reports Home dashboard, you will see how some of your marketing efforts are performing over the past week.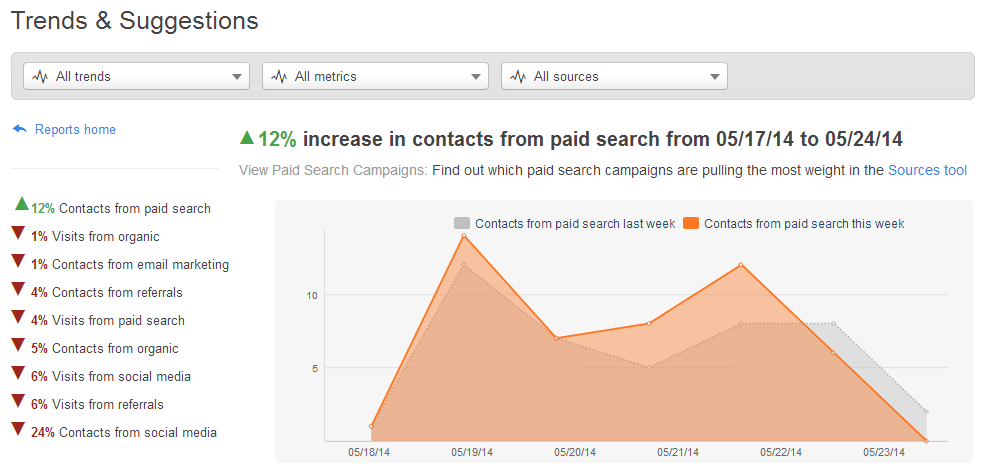 3. Compare your trends
On the Trends & Suggestions page, you can compare last week's marketing results to this week, broken down by marketing source. To filter, use the top bar. You can choose from increasing/decreasing trends, Contacts/Visits, and specific Sources buckets.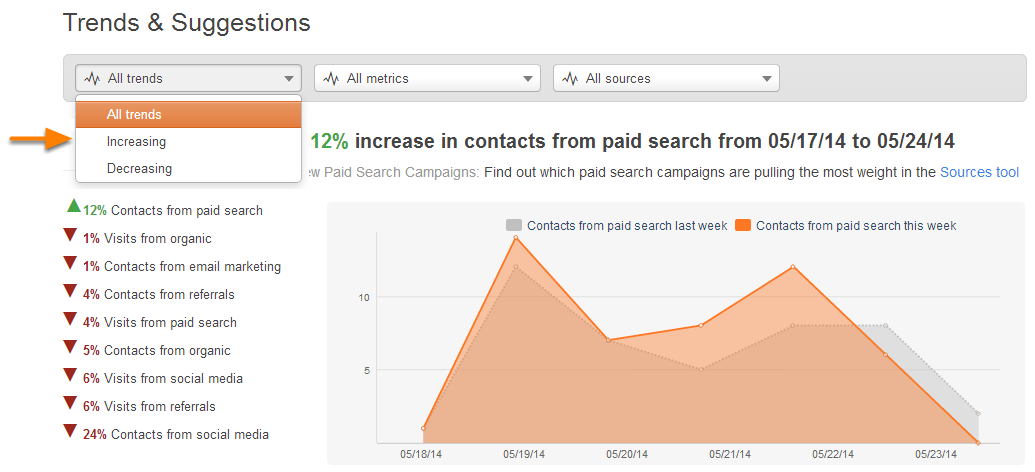 Each graph shows the comparison of Contacts or Visitors gained through the source. The graphs that are orange outline the number of Contacts gained from each source and the blue graphs show the number of visits gained. From each graph, you can be taken right to the related tool in HubSpot.
4. Manage your saved reports
From Reports Home, you can see all of the custom reports that you have created in HubSpot, in order of creation date. At the top of the Reports Home dashboard, you can filter by report type, create date, and the user who created the report.
5. Create a new report
Click on the 'Create a new report' button in the top right corner of the Reports Home dashboard to build a new report. Depending upon your HubSpot subscription level, you may have the options to create multiple types of reports: