Use the social publishing draft-only permission to manage who can create draft social posts and publish social posts. This permission allows users with Admin Access to proofread and review social posts created by draft-only users before publishing them.

Set social publishing draft-only permissions for a user
In your HubSpot account, click the settings icon

settings

in the main navigation bar.
In the left sidebar menu, navigate to Users & Teams.
Click the name of a user to edit their permissions.
In the right pane, click the Marketing tab. In the Social publishing setting, click the All accounts dropdown menu and select Draft only.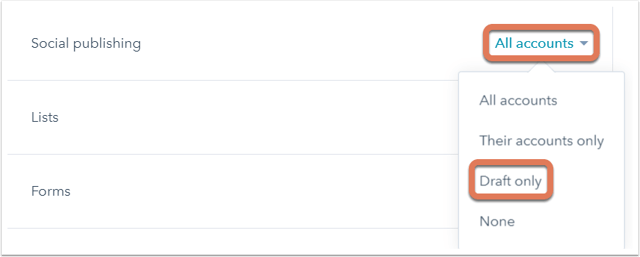 Please note: only users with Admin Access can set user permissions.
Access to the social tool for social publishing draft-only users
Users can create and set a publish date and time for draft social posts for any shared social accounts in the composer. Users will only be able to click Save as draft in the bottom left of the composer, and

will not

be able to publish posts or schedule posts for publishing.
Users can bulk upload social posts, but

will not

be able to schedule the posts for publishing. A user with the All accounts social publishing permission must review and schedule the posts.

Users can delete draft social posts, but

will not

be able to delete scheduled or published social posts.
Users

will not

be able to add social posts to campaigns, or edit campaigns already on social posts.
Users are read-only in the social monitoring tool. They can see post activity, but cannot respond or react to social posts.
Users

will not

be able to connect social accounts or disconnect existing social accounts.
Users

will not

be able to edit blog auto-publish settings.

Users can only edit their own social activity email notification preferences in

the Email Notifications tab in social settings.