HubSpot's blog tool gives content creators a powerful platform for building authority around your topics and generating traffic to your site. Learn more about the features of the blog tool and how to set up your blog in HubSpot.
Settings
You can create a new blog or manage your existing blog options in your blog settings. This is where you'll set defaults for your blog root URL, language settings, comments, subscriptions and more.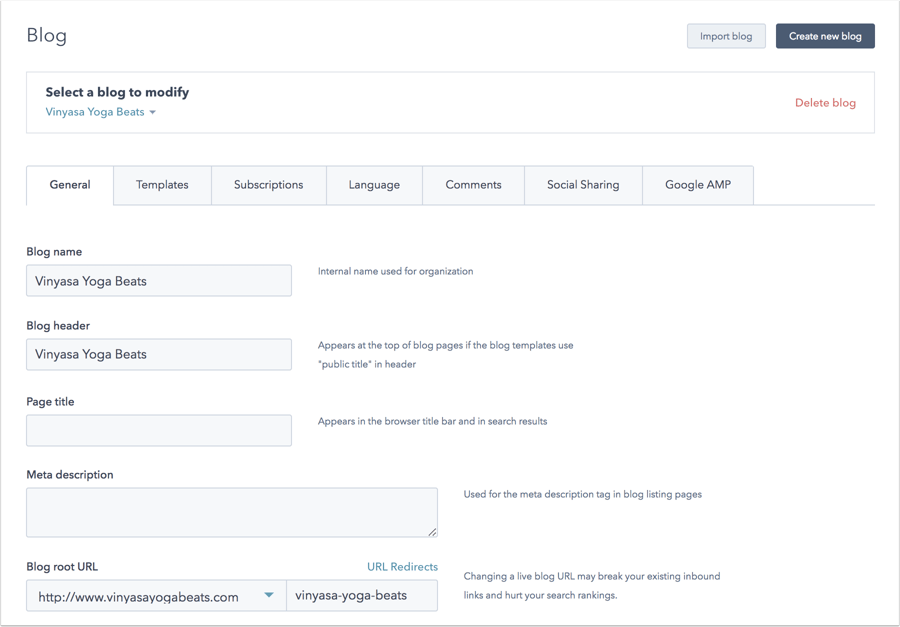 Posts
You'll create and edit a new blog post in your blog post editor. Each of these posts can be displayed by publish date, by author, or by topic. In addition to the classic editor, HubSpot has a draft mode editor that allows authors to focus on their content without any of the other distractions of their layout.
Listing page
Your individual posts are grouped together into blog listings. You may feature blog posts in order of publish date or sort them by author or blog tag.
You can view your live listing page by clicking View blog at the top of your blog dashboard. The content of your blog's listing page renders dynamically based on your blog's template and blog options in your settings.
Dashboard
Your blog dashboard gives you an overview of all your blog posts and analytics. You can also manage details of your blog such as tags, authors, and settings. This is also where you'll create a new blog post.
If you're managing multiple blogs in HubSpot, click the blog name dropdown menu on the left to select a different blog dashboard. Click Make default blog to set the selected blog as your primary blog. This will be the default blog dashboard you see when you navigate to the blog tool.
All blog posts for the selected blog will display in the dashboard by default. In the left sidebar navigation, you can filter the dashboard to display draft, scheduled, published, or archived blog posts. You can also see your comments, tags, and authors. There's a More Tools menu to edit your blog settings, view your subscriber lists, manage your blog template, and more. To analyze your overall blog performance in the website analytics tool, click View blog analytics.


Subscription
HubSpot automatically generates a blog subscriber form for each blog that your create. Customize this form to include the blog notification frequency options you want to maintain: Instant, Daily, Weekly, or Monthly. You can manage and publish your blog notification emails for each subscription frequency. Learn more about how to set up your blog subscription options.
The blog comments dashboard allows you to review and moderate blog comments. Depending on your comments settings, comments may need to be approved before appearing on your live blog. A comments form is automatically created in your forms tool for each blog that you create.