Manage your blog settings
Last updated: February 4, 2021
Before you start creating and sharing content on your blog, you'll need to configure your settings. You can customize your blog's root URL, date format, comments options, subscription email settings, and more. If you're creating blog content in more than one language, learn how to create a multi-language blog within your settings.

In your HubSpot account, click the settings icon

settings

in the main navigation bar.
In the left sidebar menu, navigate to Website > Blog.

Click the

Select a blog to modify dropdown menu to select the blog you want to customize, or click Create new blog.

You'll see tabs for each component of your blog's settings.
General

You can create a new blog, delete a blog, or manage your basic settings for your blog. You'll fill in these settings before you start blogging and sharing your content.

Complete the following fields:
Blog name: the name of your blog. This is an

internal

name only, for your reference, in the event you have more than one blog in HubSpot.
Blog header: the blog header appears in your blog templates if they use the public title tag.
Page title: the title appears in the browser tab and in search engine results. It is recommended to keep the title below 70 characters.
Meta description: the summary that likely appears in search engine results for your blog. Google, for example, may not use the meta description.
Blog root URL:

click

the Blog root URL dropdown menu to select a domain for your blog to be hosted on

(

Marketing Hub Enterprise

only)

. To add a subdirectory (e.g. /blog or /news), enter the subdirectory you want in the text field. This URL will be the URL of your blog listing page and the root URL of your blog posts.
Please note: if you change the Blog root URL, redirects will automatically be set up to forward any existing published blog content to their corresponding new URL. If there is no existing published blog content, redirects will not be created automatically.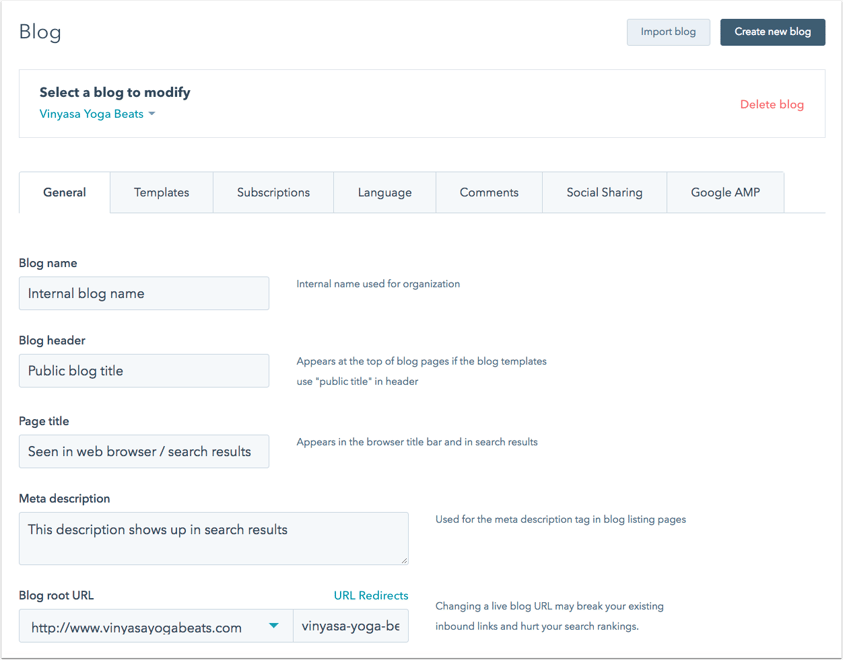 Templates
In your blog's Templates settings, choose the template applied to your blog posts and blog listing page, which is your blog's homepage. You can also customize how your blog posts render on the listing page and add any customization to the HTML and CSS here.
Use the Current template dropdown menu to choose the template applied to your blog posts and blog listing page.
To use a different template for your blog listing page, click the Use custom template for blog listing page hyperlink. The text should now display Use same template for blog listing page.
Select the Show summaries on listing page checkbox if you'd like your blog listing page to feature the content of your blog post up to the read more separator.
Select the Use featured images in listing summaries to include the featured image of each blog post on your blog listing page.

You can also customize the header or footer HTML of your blog or apply stylesheets here. By default, custom HTML will be added to both your blog listing template, and your blog post template.

To apply custom HTML to your blog post template, click Use custom header/footer HTML for blog posts.
Learn more about how to customize your template settings.
Subscriptions
In blog Subscriptions settings, you can enable and edit your blog notification emails. You can send blog notification emails instantly each time a new blog post is published. Or you can send a summary of new blogs that have been published on a daily, weekly, or monthly basis. Keep in mind that your blog subscription form should reflect the same frequency options you enable in your blog subscriptions settings.
To enable notification emails for your blog:
First, click Edit to create and publish the automated blog notification email.
Then, return to your blog settings and refresh your web browser. The blog notification email you published will be enabled to send automatically. You can disable this notification email by switching the Send toggle off.
To remove any blog notification emails you don't want to use for this blog, click Delete.

In the RSS Feed section of your settings, you can customize the way your blog posts appear in your RSS feed and in the post feed in your blog notification emails.
Enter the number of blog posts features in each blog notification email.
Use the checkboxes to indicate whether to feature summaries of your blog posts in the RSS feed or in your blog notification emails.
Learn more about how to manage your blog subscription form, emails, and settings.
Date Formats
Your blog's Date Formats settings determine how the dates are formatted in your blog posts and blog listing page. This is unique from your account language defaults.
Click the Language tab.

Use the Language for dates dropdown menu or the search bar to choose the language for your blog date format.


Use the Publish date format dropdown menu to choose the format for your blog post publishing dates. These formats will correspond to the Language for dates selected above.
Use the Posts by month format dropdown menu to choose the date format for your blog listing page.
Please note: the date formats available for selection correspond to the language for dates you've selected.
If you're comfortable working with code, you can also choose to use a custom date format that you create using Locale Data Markup Language. You can find more information on using LDML by clicking What's this? on the settings page.
Comments
In your blog Comments settings, you can manage blog comment notifications, moderator settings, and more.
Switch the Enable commenting toggle on to allow visitors to leave comments on your blog.
Select the Allow comments to create contacts checkbox if you want new visitors who leave a new blog comment to be added to your contact database.
Select the Moderate comments checkbox if you want blog comments to be approved by your team before they're published.
Click the Who should receive notifications of new comments on this blog dropdown menu to select the users on your team to receive notifications to review your blog comments.
To customize how many levels of comments can be threaded, click the Number of levels comments can thread dropdown menu. The more levels added here, the more layers of reply comments visitors can leave on existing comments.
Enter an (optional) message that appears to visitors after leaving a comment on your blog. It may be helpful to share with your readers if their comments will be reviewed by a moderator before they're posted.
Learn more about how to configure your blog comment settings.
Social Sharing
Enable social sharing icons so readers can quickly and easily share your content with their followers with one click. You can include a share icon for Twitter, LinkedIn, and Facebook. There will be counter for each social media sharing icon that shows the number of times your blog post URL was shared on that network.

Click the Social Sharing tab.
If you'll be including a Twitter social sharing icon, use the Default Twitter account dropdown menu to choose the Twitter handle featured in blog posts shared via Twitter Cards. Learn more about how to connect a Twitter account to HubSpot.
Select the social media channel checkbox for any social sharing icons you want to include on your blog.
Google AMP
Google AMP, or
Accelerated Mobile Pages
, is a mobile-specific page format that loads your content almost instantaneously. This setting is recommended to make it easier for visitors to read more of your content.
In order for your blog posts to load this fast, J
avaScript files,
stylesheets, HubSpot forms, header HTML and footer HTML will not render in the AMP version of the page.
In your AMP settings, you can enable AMP for your blog posts and customize the settings for your blog logo, fonts, and colors to standardize how your blog posts load over mobile.