Install the tracking code
To view a list of companies that have visited your website and track these visits, add the HubSpot tracking code to your company website:
In your HubSpot account, navigate to Reports > Analytics Tools.
Click Prospects.
Click Actions and select View tracking code.
Add the code to your site, if it's not there already.
After the tracking code is installed, visits will start populating in the prospects tool. The stream is divided by company.
If you notice a lot of visitors to your site from a company in your target market, they may be interested enough in your offerings for you to call them and start the sales process. The Number of Views, Number of Visitors, and Last Seen properties provides a perspective of how qualified a lead is.
In this list, you have the option to favorite or hide prospects. You may want to hide a prospect if it's a competitor that you don't care to track. Favorite a prospect if you want to return to their information at a later date.
To hide a prospect, check the box next to the prospect and click Hide. After you've hidden a prospect, the prospect will not appear in the daily email.
To favorite a prospect, click the favorite star next to the prospect.
If you'd like to add a company to the CRM click the
+ icon
to the right of the company name. Alternatively, you can check the
box
beside multiple companies and click
+Add to database
to add them all at once.
Company details
Click the company name to see additional details about the company, such as industry, annual revenue, and location.
Click View in LinkedIn to access the company's LinkedIn profile or click the externalLink external link icon to the right of the Domain property to go to the company's website.
Click Add a company next to the company name to create a record for this company in your CRM database. The company will then be available from the companies dashboard.
Related companies
Scroll down to see the Related companies section. This will show you similar companies in the industry. Click a company name to access the company's website.
Prospect notifications
With the prospects tool, you and your team members can receive email notifications related to website visit activity. There are two types of notifications:
Revisit notifications: get a notification when a company in this view visits your site.
These can be enabled by clicking Actions > Manage Notifications in the top-right corner. In the dialog box, click to toggle the notification type switch on. Team admins can also add their team members by selecting Team notifications.
You can
disable your prospect notifications
in your
Profile & Preferences
. Your saved views will not appear here, as the setting here only applies to your
All visits
view.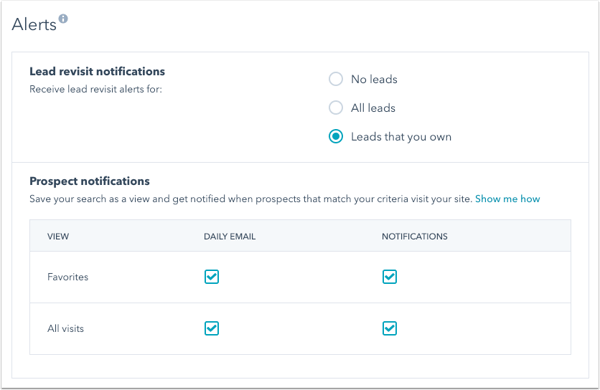 Search and saved filters
Search for prospects by keywords, such as state or country. If the term included in your search query is matched by a prospect, that prospect will show on the list. If you have sales teams assigned to certain regions, you can easily see how well they're doing. You can also train regional sales reps to pull these reports themselves so they can identify prospects in their region showing interest in your site and then reach out to them and close deals.
To search, click the search box near the top and enter a city or state. The results will populate in the table. Please note that this is a keyword search as opposed to a strict state/country filter.
To refine the list of companies, click +Add filter in the left sidebar menu to add criteria to filter your data. It's helpful to use filters based on territory, funding, annual revenue, or other properties so you only see companies that you want to target.
You can also filter by internet service provider (ISP). The prospects tool looks at a visitor's IP address to tell you which companies are visiting your website. Oftentimes, small companies and individuals browsing the web from home won't have their own IP address. In those cases, the company that appears in prospects is just the internet service provider (like Comcast, Cox, Verizon, etc.).

Using the internet service provider filter, you have the option to view (or not view) internet service providers in your prospects tool. By default, your prospects tool will automatically contain the filter Internet service provider | is equal to | false, so you won't have internet service providers in your prospects view. You can remove this by clicking the X on the filter or by clicking the filter and selecting True, and then selecting Update filter.
Please note: visits from IP addresses that you exclude from analytics will still be tracked by prospects.
Frequently asked questions
How does HubSpot know the IP address for a given company?
HubSpot maintains a proprietary database of company IP addresses.
Why is another IP tracking tool showing me different results?
Every company maintains their own proprietary list of companies and IP addresses. HubSpot's proprietary list is fairly extensive, but other companies might have access to data that HubSpot doesn't, and HubSpot might have access to data other companies don't.
Does every company have an IP address?
Small companies typically don't have their own IP address - they often use the same internet service providers (ISPs) that are used at home, such as Comcast, Cox, Verizon, etc. In those cases, it's not possible to know if one of those companies is visiting your site.
Can mobile visits be IP tracked?
If a mobile visit comes from a corporate IP address, HubSpot will be able to look up the company. If it comes from a mobile network like Verizon, AT&T, etc, there's no way to identify the company.
Can companies outside the United States be tracked?
Yes, HubSpot's database includes companies outside the United States.
How does data get updated on company records from HubSpot insights?
Company information is refreshed every few months if new data is available for that company, but HubSpot will not overwrite any information you or your team have added to the CRM.