Academy certifications | Frequently Asked Questions
Last updated: October 29, 2021
Find answers and general information quickly about the Academy certifications in HubSpot.
General

Certification transfer

Certification exams
Practical exercises
How do I view my certifications?
Learn how to view your certifications in the Academy.
How do I check my progress in a certification, course, or lesson?
In your HubSpot account, click your account name in the top right corner, then click HubSpot Academy.
In the My learning

tab, view your certifications, courses, and lessons. For ones currently in progress, the meter below the title indicates the estimated time left.

To filter your certifications, courses, and lessons use the dropdown menus.

To add a certification, course, and lesson to your Favorites tab, click the heart under the title.
Why did I receive an incorrect email from the Academy team?
Incorrect emails relating to certification expiry or welcome messages can occur when you've renewed a certification with a different email address or have previously transferred your certifications to a new email address. Consider updating your email preferences to stop receiving such incorrect emails.
Incorrect emails relating to failing a certification exam could be caused by viewing the exam but not completing it. You can disregard the email and take your certification exam again 12 hours after.
Why am I unable to sign up for the Academy?
You may have filled in a form field wrongly when signing up. Review your form for any fields with a red border and text that explains the issue.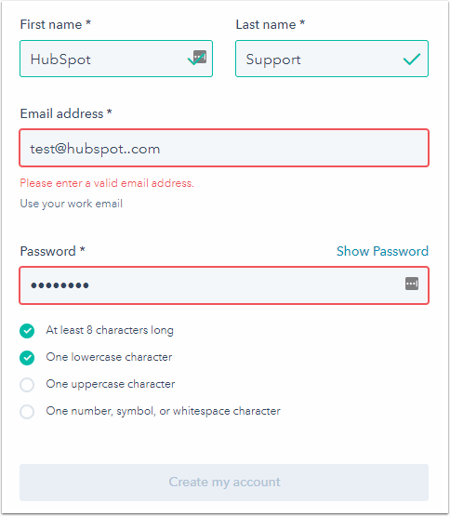 If all fields are valid and you are still unable to sign up for the Academy, try signing up in a different browser. If the issue persists, post a question on the Community.
How do I change the email address associated with my HubSpot certifications?
Learn how to transfer certifications to a new email address.
Please note:
depending on your
HubSpot subscription
, some certifications will not be transferred. For example, if you're a user in a
Solutions Partner account
, partner-specific certifications will not be transferred to a non-partner account.
How do I update the name on my certification badge?
You can update the name on your certification badge by updating your name in your HubSpot account.
How long do certifications take?
To see how long a certification may take, click Read More on the certification on this Academy page. The Course Curriculum displays the time required for each section of the course. If you've already started, you can view your progress as well.
To see the time limit for each examination, in your course's left sidebar menu, scroll down to the bottom and click Exam. The right pane will detail how long the time limit is for that exam.
How long before I can take the certification exam again?
You can take your certification exam again 12 hours after the previous attempt.
Can I have the questions and answers to my certification exam?
No, the questions and answers from the exam are not shared to give everyone an equal opportunity. To request for a section-by-section break-down of your score, email academy@hubspot.com.
Can I start the HubSpot certification exam and come back and finish it at a later time?
No. You are required to finish the exam in one sitting. If the page is closed or left, you will be locked out for 12 hours before being able to attempt the exam again.
How are exam scores determined?
Scores are determined automatically by HubSpot's grading software. It divides your correct answers by the number of questions.
How do I take the Inbound Certification if I don't have a company name and website?
HubSpot does not validate the company name or URL on the form, so enter any company and company URL to take the Inbound Certification.
Please note: some domains will not be accepted and will prevent a successful sign up, such as hubspot.com, google.com, linkedin.com, facebook.com, and test.com.
Why do I need to take the HubSpot Marketing Software Certification to access the Agency Partner Certification?
The HubSpot Marketing Software Certification is a prerequisite to the Agency Partner Certification. HubSpot requires partners to be able to successfully use HubSpot software, before it can teach partners on selling services, covered in the Agency Partner Certification.
Do I have to complete practical exercises if another user in the same HubSpot account has already submitted and passed the certification?
To pass the HubSpot certification, each person must submit their own completed exercises and test for grading. If you have multiple users in one account, each separate user needs to have their own unique submission that passes all practical exercise requirements.
Which HubSpot account should I complete the practical exercises in?
Ensure that you are logged in and completed the practical exercises in the same account.
When do I have to complete a practical exercise?
If you've passed the exam before finishing the practical exercises, you should complete the practical exercises before your exam results expire. Your exam results will last as long as the time the certification badge lasts. It is recommended to complete the practical exercises as soon as possible.
When will my certification practical exercise be graded?
Some are graded automatically, whereas some are graded manually, which can take five to seven business days. You can check the status of your practical exercise in your HubSpot account.
Thank you for your feedback, it means a lot to us.