Your HubSpot's marketing email tool keeps you engaged with your active subscribers. Use the tool to notify your subscribers about news, promotions, and offers that might interest them. Then you'll analyze your campaign results to learn more about what content resonates with your readers.
Please note: you can learn how to create and send emails in your Marketing Hub Starter account with the drag and drop editor.
Before you begin creating your email, you'll want to make sure you've set up a template that works for your content.
Create a new email
In your HubSpot account, navigate to Marketing > Email. On the email dashboard, click Create email.

Use the search bar or scroll to find the existing email template you want to use. If you don't have a template that fits your current needs, you can browse marketplace email templates by clicking the Marketplace tab or design a new template.
Click the template you'd like to use, and enter a name for your email. Then click Create email.

The Edit

tab is where you'll add content to and set up the details for your email. Hover over a module and click to edit the content of that module.

Edit details
At the top of the edit screen, click Edit details to add your email From name, From email, Subject line, and Preview text. Your From name, From email, and Subject line are required before you can send an email.
Please note: not all email clients will display preview text for your email. If you leave this field blank, some email clients will show a snippet of your email body by default.
Plain text
HubSpot will automatically generate a plain text version of the content you add to your email. If you click the Plain text tab, you'll see a stripped down version of your email which you can customize at your discretion by clicking Edit. More often than not, it's perfectly fine to leave this feature alone unless there's a specific reason you want your plain text version to look different.
Once you're done editing the content of your email and adding the details, click Next to move to the Settings tab.
Settings
On the Settings tab, you can change the internal email name, select the subscription type (required), and assign your email to a campaign. You can also choose to enable a web version of your email and edit its name, URL, and meta description.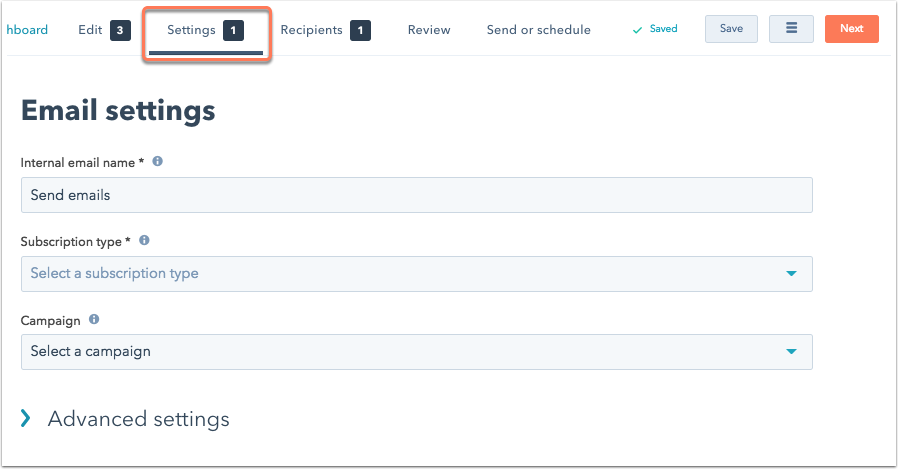 Advanced settings footer
Click Advanced Settings to expand more details about your email, template, and settings.
You can enable the web version of your email by clicking the

Edit web version contents

toggle on. You'll be prompted to enter a page title and customize the URL of this webpage.

To edit your email template, click the template name to edit it in your design manager. To choose a different template for this email, click Select a different template and click on a template you'd like to use instead.
Click Edit email footer contents to customize the email footer information for this specific email. Click Manage to edit your email footer information for all emails directly in your settings. Marketing Hub Enterprise customers using multiple office locations can use the Office location dropdown menu to choose the company address for this email.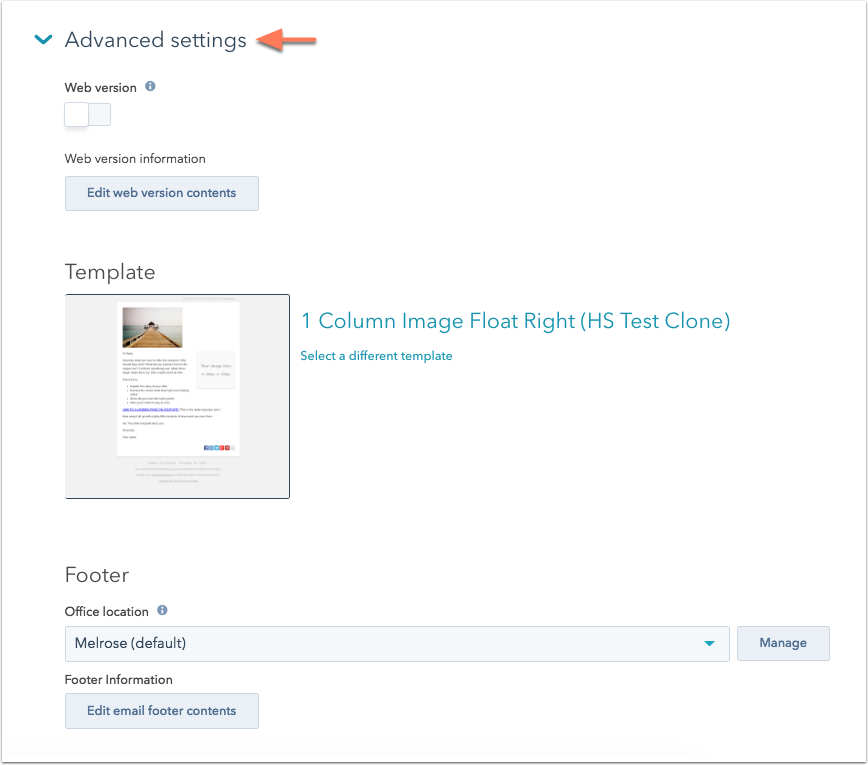 Recipients
On the Recipients tab, you'll choose which lists and individual contacts will receive your email. You can get here by clicking Recipients at the top or choosing Next when done with the Settings screen.
You can add specific lists or individual contacts as recipients or select Save it for automation if you'll be using it in workflows (Marketing Hub Professional and Enterprise only). If you choose Add recipients, you can browse or search for lists and individual contacts to include in your send. Any recipients you include will appear in the right-hand column under Send to.
You can also choose to exclude certain lists of individuals if you want to make sure they do not receive the email, even if they are members of a list in the Send to section.
Review
On the review tab there's a checklist of items that have been taken care of in your email setup, along with recommended items that you may still need to address. Click Resolve to complete any missing information needed to send your email.
Email tool features
On the left pane, there are features to test, preview, and optimize your email before you send it to your subscribers.
Preview
Click the eye icon in the left sidebar to see a preview of how your email will appear on different devices. You can also see a preview of your email as it will appear for specific contacts in your database, as well as a shareable preview.

Send a test email
Click the email icon in the left sidebar to send a test email so you can see what your email looks like in your email client. Make sure you choose the recipients of your email, whether or not you want to receive this email as a specific contact (this can help to ensure that any personalization or smart content is working as you expect), and whether or not you want to see the plain text version.

Test in email clients
Click the checkmark icon to test your email in different clients. On this pane, click Test your email. A window will appear and you'll be able to select the email clients in which you want to preview your email.

Optimize
Click the bar graph icon in the left sidebar to open the Optimize pane. This will provide recommendations for how you can improve your email content and settings, along with ways in which you've successfully set up your email.

Edit modules
Click the box icon in the left sidebar to open the Edit modules pane. This will display a list of all the modules included in your email. Click on a module in the list to make edits to the options and style.

A/B test
Click the A/B icon on the left sidebar to create an A/B test variation for your email. Click Create A/B test to give your variation a name and begin the setup process.
Please note: the A/B test feature is available for Marketing Hub Professional and Enterprise customers only.

Send or schedule
On the Send or schedule tab, you can choose when you want your email to be sent. You have three options:
Send now: your email will be sent immediately to your selected recipients.
Schedule it for later: set a future time and date for your email to send. Select your date and your time from the boxes that appear.
Send based on time zone (Professional and Enterprise only): schedule an email to send in a recipient's local time zone.
Once you've made your selection, click Send or Schedule in the top right to send your email to your recipients.
If you chose Save for automation on the Recipients tab, you'll click Save for automation in the top right corner to publish your email and make it available for your workflows.