It is important to know how to create a list of contacts because lists are used in other HubSpot tools. You can send a marketing email to a list, enroll a list in a workflow, and more. Creating a list will also give you a better sense of the number of contacts that fit a certain criteria.
Types of lists
There are two types of lists in your HubSpot account: active lists and static lists.
Active lists
Active lists

automatically

update their members based on its criteria.

Contacts will join the list when they meet the criteria and leave the list when they no longer meet the criteria.

An example of using an active list is for email campaigns to a particular subset of your contacts running over time.

This ensures that the list you are sending the email campaign to is always updated with new contacts who meet the criteria.
Static lists
Static lists are snapshots of the contacts who meet a set criteria at a point in time.

Static lists

do

not

update automatically.
New contacts who meet the criteria will

not

be added to the list.
Contacts can be

manually added and removed from static lists

.
Please note: the maximum number of lists you can create depends on your Marketing Hub subscription. Learn more about your list limits in the List segmentation section.
Set up a new list
Create a list
In your HubSpot account, navigate to Contacts > Lists.
In the upper right, click

Create list.
In the top left, click the

pencil icon

edit

and enter a

name

for the list.
In the upper left, click the dropdown menu

and select whether the list you're creating should be an

Active list or a

Static list.
Select list criteria
In the left panel, set the criteria for the contacts you want to work with. Learn more about determining your list criteria.
Once you've set your criteria, click

Apply filter. Contacts that fit this criteria will populate on the right. This is a preview of the estimated number of contacts that will be added to your list.
In the upper right, click Save

. Your list may take some time to process.
Perform other actions in your list
To s

earch for a specific contact in your list, u

se the search bar in the upper right.
In the upper right, click the Actions dropdown menu to perform more actions with your list: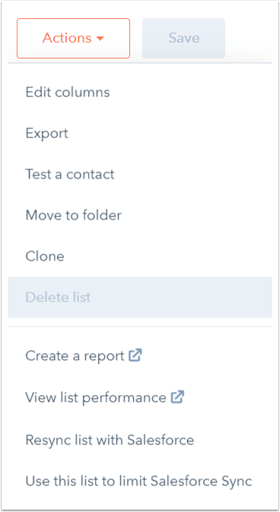 Use your list
You can now analyze your list and use the list in workflows or your marketing emails.