Please note: the contacts report is only available in Marketing
Enterprise
accounts. If you are interested in upgrading your account to gain access to this feature, please contact your Account Manager or
begin your 30-Day Free Enterprise Trial
.
The contacts report allows you to build reports based on the information in your contacts database in HubSpot. You can:
Report on all of your contacts or a specific list in HubSpot.
Graph your contacts over time based on any date property in your Contacts database (create date, became a lead date, etc).
Break your report down by any contact property from your database (lifecycle stage, source, industry, persona, etc).
Sum any numeric contact property from your Contacts database for those contacts in the report (revenue generated, lead score, email opens, etc).
Navigate to Reports Home
From your HubSpot Marketing Dashboard, navigate to Reports > Reports Home.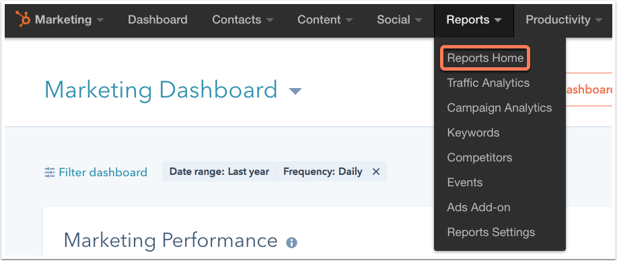 Create a new report
From Reports Home, click the blue Create a new report button.
Select the report type
In the dialog box, click Contacts Report.
Next, choose what type of contacts report you want to build.
Start from Scratch
Contacts Revenue Last Month
Lifecycle Stage Distribution
Most Converting Offers
Please note that these options may look a little different depending on whether or not you're utilizing the HubSpot CRM.
For this example, we'll select Start From Scratch and go through the process of building out a report with criteria you set up yourself. Once you've selected a contacts report type, click Create report.
Build your report
You're now in your new contacts report and have many options to choose from to create a report for your business. So let's go over each option you have and your choices:
Choose a group of contacts to report on: you can choose to report on all contacts from your database, an existing list in your HubSpot database, or you can create a new list while you're here.
Choose a conversion type and time period: here you'll choose what date property you'd like to focus on in this report and in what time range.
Choose how you would like to group your contacts: you can view your contacts report by week or month.
Break down report by contact property (optional): this dropdown menu allows you to select which HubSpot contact property by which you will be breaking down your report. For example, if you want to report on when all of your contacts first became a Lead (were given the Lifecycle Stage "Lead"), select Became a Lead Date.
Calculate total value of numeric contact properties (optional). This dropdown menu will look at a HubSpot contact property that is a numeric property and allow you to sum this property within your report.
Create report: click this button to finish setting up your report.
View your report
Once you've chosen your options from the step above and created your report, you'll be taken to a screen where you'll view your report. At first, you'll probably see a screen that looks something like this...
This screen could display here for several moments while HubSpot goes about pulling in the information you want and displaying it in your new report.
Once the number-crunching is complete, your report is done and ready for viewing. Let's look at the overall anatomy of a contacts report:
1. Title: your report title is generated for you based on the criteria of your report. You can click on this area to change the title of your report if you want it to be something more specific.
2. Standard or Cumulative: these buttons will display your graph in standard bar chart format or in a cumulative, linear format.
3. Graph: this is where you will view your graph data for your time range.
4. Chart: click the button under chart and this will designate a specific color to quickly tell the volumes for each value in the breakdown section.
5. Breakdown of your contact property. (Please note the "Property not set" property value there - this means there are contacts in my report that don't have a value for that property)
6. Contacts: the number of contacts that have the same contact property value for the breakdown property.
7. Filter table...: This looks at your table (parts 4, 5, 6) and will let you breakdown the property even closer.
8. Edit report: Don't worry if you made a mistake in one of the options you chose for your report, you can click this button to go back and make a change.
9. Goal tracking: You can choose to set a goal for yourself on how many contacts you'd like to get on this report within a specific time period. So the first (text) box, you'll enter a number, and then the dropdown you'll choose either Daily, Weekly, Monthly, or Yearly.
10. Report Actions: this is where your other basic options are for using, sharing, re-creating, or deleting your report.
Email your report
Within your contacts report, you can email your report out to a specific contact (or number of contacts) with a small message, decide what view to display from the graph, what metric to focus on (contacts, sum, or average), and then you can also set a frequency in which this report is emailed.
On the day specified within a schedule, these emails will be sent on that day at 6am EST.
Export your report
You can export a report by pressing the export button in the sidebar. The data from the report will be emailed to you as an excel or CSV file, depending on the number of rows. Any report over 64,000 rows will be emailed as a CSV.
Refresh your report
Unlike other reports in HubSpot, Contact reports don't update automatically. In order to update a report, you can either refresh it from the sidebar, or you can set it to refresh automatically by setting the report to email you daily, weekly or monthly.
Report Details
On the bottom right-hand side you'll also see your Report Details area. In this section you can see what criteria you based your list off of quickly, without having to go in to edit the report to see this data. Also, this shows you who last modified your report and when.