A user can be added to a team.
If their permissions are set to Team only, they will only have certain access to records owned by or assigned to users in the team for that specific permissions. Content can also be assigned to specific users or teams.
When a user requires access to another team's records or content, an Admin with the Add and edit users permission, or a Super Admin, can assign a user to additional teams. They will be able to access the additional team's records and content with Team only permissions.
Please note: being a member of an additional team only allows the user access to the team's records and content. These users will not be included in any team reports, routing rules (e.g., conversation routing rules), team notifications (e.g., form submission email notifications to a team), or workflow rotation actions. They will also not be able to view any custom records views set up for the team.
To assign a user an additional team:
In your HubSpot account, click the settings icon

settings

in the main navigation bar.
In the left sidebar menu, navigate to Users & Teams.
Click the user you want to assign an additional team.
In the right panel, under the user's name, click the team dropdown menu.
Click the Additional teams dropdown menu and select the team you want to assign to the user. You can assign up to five secondary teams per user.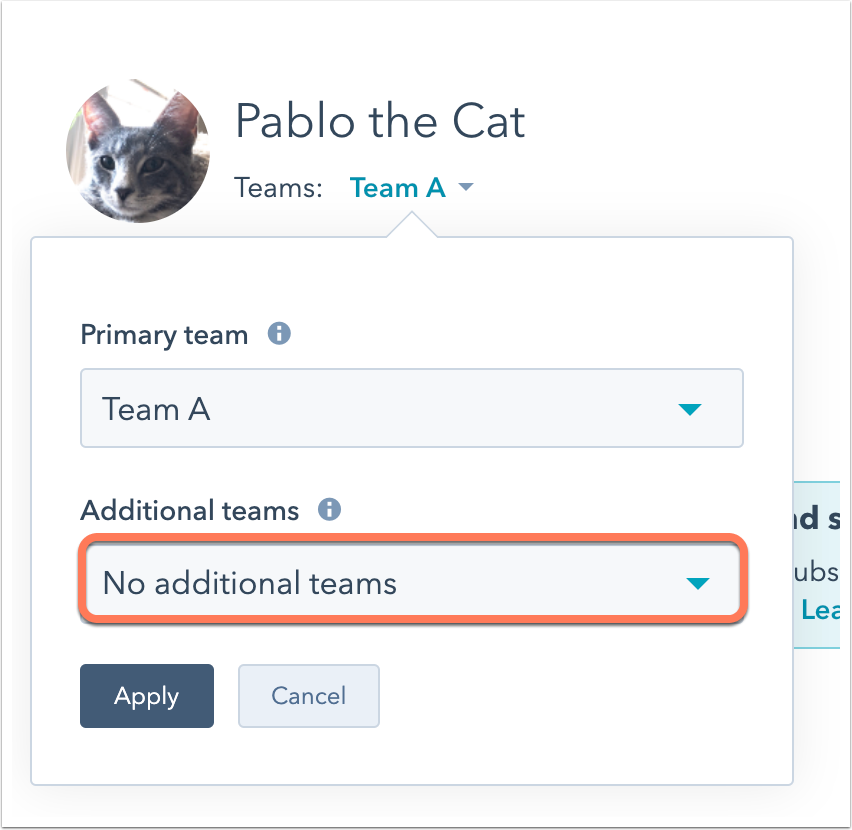 Click Apply.
Click Save. The user will now be part of the additional team, on top of their primary team.