Create Facebook ad campaigns in HubSpot
Last updated: January 19, 2023
Ad blockers may block some of the content on this page. To prevent this, pause your ad blocker while browsing the Knowledge Base.
After connecting your Facebook ad account to HubSpot, you can create lead ads and website traffic ads through the HubSpot ads tool.

If you've connected a LinkedIn ad account or Google Ads account, you can also create LinkedIn ads and Google search ads directly in HubSpot.

Please note: automation is available for ads created in both Facebook and HubSpot, but is not available for dynamic lead ads.

To create a new ad campaign:

In your HubSpot account, navigate to Marketing > Ads.
Click Create ad campaign, then select a campaign type:

If you're creating a lead ad campaign, select

socialBlockFacebook

Lead generation.
If you're creating a website traffic ad campaign, select

socialBlockFacebook

Website traffic. You can also create a website traffic ad from one of your HubSpot landing pages:

In your HubSpot account, navigate to Marketing > Landing Pages.
Click on the name of the landing page you want to create an ad from.
In the top right, click Promote, then select Create website traffic ad.

In the right panel, select

socialBlockFacebook

Facebook.

Click the pencil icon

edit

at the top of the page to enter a name for your ad.
Set up ad creative
Set up your ad creative and form in the left panel.
Ad account: select the ad account for the ad you want to set up.
Page: select the Facebook for the ad.
Please note: if one of your pages doesn't appear as expected, check out the Facebook troubleshooting guide to ensure that you have the correct permissions for your connected pages.
Campaign: enter a name for the campaign for your ad, or select an existing ad campaign.
Website URL: if you're creating a website traffic campaign, you'll need to enter the URL of your website.
Image/Video: upload an image or video for your ad.
Text: enter text for your ad.
Headline: enter a headline for your ad.
Call-to-action: select a call-to-action for your ad.
If you're creating a lead ad campaign, you'll need to select an existing form to use, or create a new one. When users click on the Call-to-action button on your ad, Facebook will prompt them to fill out a form to provide additional info. Under Facebook form, choose a form that users will submit:
If you want to use an existing form from your Facebook or LinkedIn page, click the Select a Facebook form dropdown menu, then select one of your forms.
To create a new form:

Click the Select a Facebook form dropdown menu.
Click Create a new Facebook form.
Enter your form name and select your form language.
Configure your form:

Choose and reorder the form fields you want users to submit. Click Add form field, then select a form field to include custom form fields, or click Create a new property to create and include a new custom property.
Enter a link to your privacy policy.
Select a notice and consent option to keep users informed of how you will use their data, and enter the corresponding text you want to prompt users with. If you want users to agree to multiple consent questions, you can click Add checkbox to add an additional prompt and checkbox.

Under the Thank you section, you can configure the follow-up text that will appear after users submit your form.
Click Create.

Please note: once you've created your form, you won't be able to edit it to make additional changes. If you made any mistakes or want to make updates to the form after it's been created, you can create a new form with your desired changes, then select the updated version for your ad.
After you've created your ad and chosen your form, you can preview your ad in the right panel. Click the left or right buttons to cycle between your ad, form, and thank you section.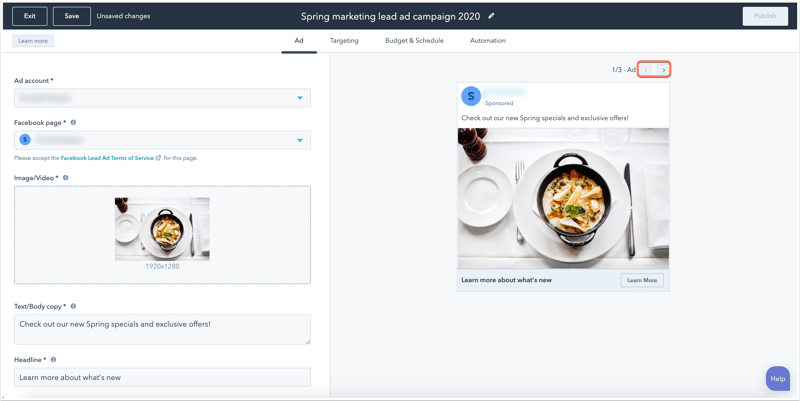 Specify targeting
At the top of the page, click the Targeting tab.
If you're creating a Facebook ad that relates to a special category, such as housing, employment, or credit, select the category that best fits your ad.
Next, configure your audience:

If you want to target a saved audience that you created in your Facebook business manager, click Select a saved audience, then select an audience.
To define a new audience or include targeting criteria from a HubSpot audience, select New audience:
Specify the criteria for users you'd like to include in your targeting.

Under Location, enter any specific city, state, or country.
Enter a target age range for your ad.

To refine which users you're targeting even further, you can add groups of filters.

Under the bottommost AND filter, click Add filter (OR).
Select Retargeting and lookalike audiences to include a HubSpot audience, or Personal attributes to manually select the target interests, behaviors, or demographics for your ad.
You can broaden your audience further by specifying another OR filter. You can restrict your audience by clicking Narrow audience further (AND), then selecting the criteria that must also match the existing criteria you've selected.

If you want to exclude certain audiences from seeing your ad, click Add exclusion, then click Add audience exclusions. In the right panel, select any audiences you'd like to exclude.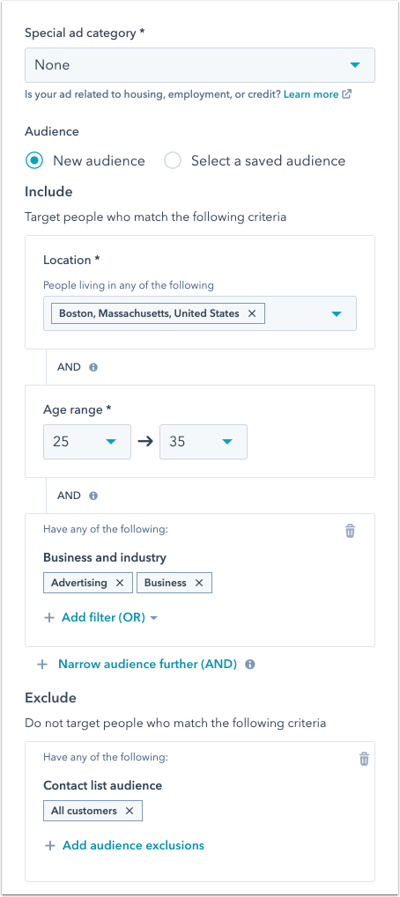 Enter budget and schedule
At the top of the page, click the Budget & Schedule tab.

Budget: click the dropdown menu and select whether your budget is for Daily or the Total amount for the ad, and enter the amount.
Schedule: click the dropdown menus to select the duration of your lead ad.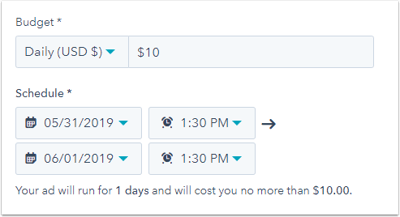 Set up automation
Once you've selected a form for your ad, click the Automation tab. This step is optional.
If you want to configure notifications and create a list for new contacts who submit their info on your form, click Basic automation:


Under the Send new contact notification to section, click to select a user or enter a new email address to receive new contacts who converted on the lead ad.
Under the Create list of lead ad contacts section, enter a name to create a new list of contacts from your lead ad, then click Create List.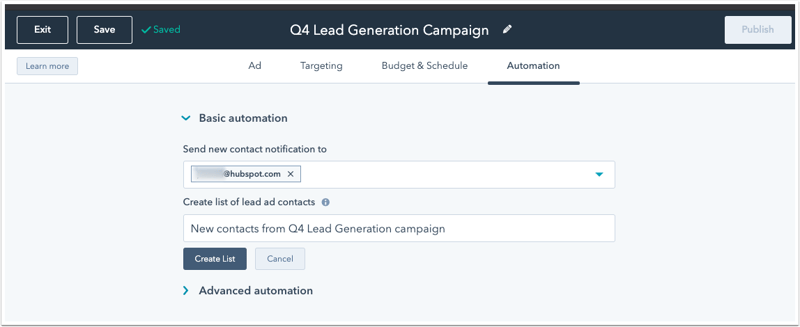 If you have a

Marketing Hub

Professional or Enterprise account, you can setup a workflow before publishing your ad so any follow-up tasks can be ready as soon as leads sync to your HubSpot account from Facebook:

Under Advanced automation, click Create workflow.
After HubSpot creates your new workflow, you can start adding actions to it by clicking the plus icon +. Learn more about setting up workflows.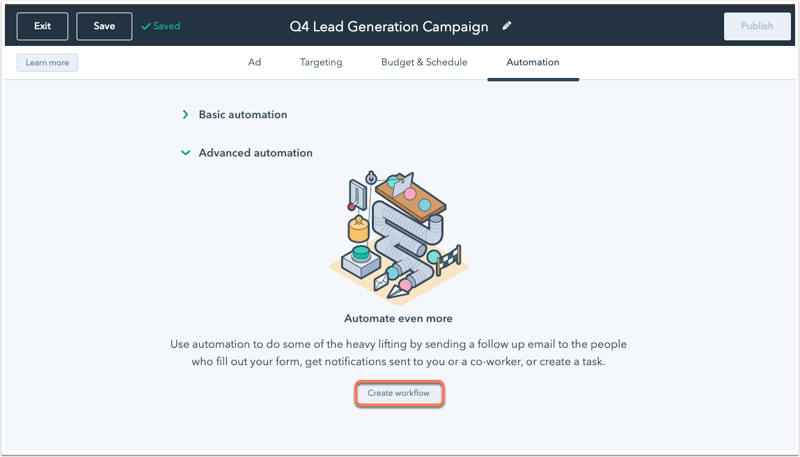 Please note: if you set up basic automation, the users or email addresses that you enter to receive new contact notifications are subscribed to submissions from the form of your ad. If you update your ad in Facebook to use a different form, then you'll need to edit the ad in HubSpot and re-add any previous users or email addresses.
Publish or Save
Once your lead ad is set up, click Publish. Once you've published your ad, you can analyze ad performance from your Ads dashboard.
If you're not done editing your ad, you can save your progress and return to finish your ad later. To save your ad as a draft:
In the top left, click Exit.
In the dialog box, click Save and Exit.
HubSpot will save your drafted ad, which you can resume editing at any time.
To view your current drafted ad campaigns:
In your HubSpot account, navigate to Marketing > Ads.
In the left sidebar menu, click Drafts.
To resume editing one of your drafted campaigns, click the campaign name. You can also remove a draft by hovering over the campaign, clicking Delete, and following the confirmation instructions in the dialog box.

Edit your Facebook ad placement
Facebook ads can appear within Facebook, Instagram, Audience networks, and Facebook Messenger. When you create an ad in HubSpot, Facebook will automatically optimize the placement. To customize where the ad appears, you can instead choose to manually select your placements from your Facebook Ads Manager. Learn how to choose ad placements in Facebook's Business Help Center.
Thank you for your feedback, it means a lot to us.