Facebook lead ads allow potential customers to sign up for your offers and give you accurate contact information for follow-up. When someone clicks your lead ad, they'll see a form that's auto-filled with information they've shared with Facebook, like their name, number, and/or email.
After connecting your Facebook Ads account to HubSpot, you can create Facebook lead ads through the HubSpot ads tool. When a visitor submits the lead ad, HubSpot will create a contact record for them, as long as their submission includes an email address. To prevent contacts from being created when they submit a lead ad without the default email field:
In your HubSpot account, click the settings icon

settings

in the main navigation bar.
In the left sidebar menu, navigate to

Marketing

>

Ads.
Click the Lead syncing tab.
Click to toggle the Allow submissions without email addresses to create contacts switch off. This setting is enabled by default.
Create and automate lead ads
Please note:
Only the user who connected the Facebook Ads account can create lead ads in HubSpot. Other users must create lead ads directly in Facebook.
If your HubSpot account has exceeded its ad spend limit, you will not be able to create new Facebook lead ads within HubSpot. Instead, you will need to create new lead ads from Facebook.
Automation is available for lead ads created in both Facebook and HubSpot. The Automation tab will not be available for dynamic lead ads only.
In your HubSpot account, navigate to Marketing > Ads.
Click Create ad campaign, then select

socialBlockFacebook

Lead generation.
Click the pencil icon

edit

at the top of the page to enter a name for your ad.

Set up your ad in the left panel and preview your ad in the right panel.

Ad account: select the ad account for the ad you want to set up.
Facebook page: select the Facebook page for the ad.
Image/Video: upload an image or video for your ad.
Text: enter text for your ad.
Headline: enter a headline for your ad.
Call-to-action: select a call-to-action for your ad.
Facebook form: select an existing Facebook form from your Facebook page, or create a new Facebook form for your ad.
At the top of the page, click the Targeting tab.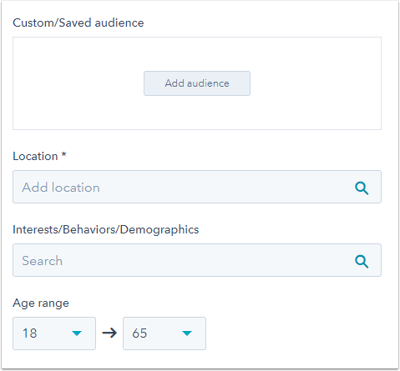 At the top of the page, click the Budget & Schedule tab.

Budget: click the dropdown menu and select whether your budget is for Daily or the Total amount for the ad, and enter the amount.
Schedule: click the dropdown menus to select the duration of your lead ad.
At the top of the page, click the Automation tab. This step is optional.

Send new contact notification to: click to select a user or enter a new email address to receive new contacts who converted on the lead ad.
Create list of lead ad contacts: enter a name to create a new list of contacts from your lead ad.

Once your lead ad is set up, click Publish.
Edit your lead ad placement
Lead ads can appear within Facebook, Instagram, Audience networks, and Facebook Messenger. When you create a lead ad in HubSpot, Facebook will automatically optimize the placement. To customize where the lead ad appears, you can edit the ad set in Facebook:

Log in to your Facebook Ads Manager account.

In the Campaigns tab, select Edit next to the campaign that you want to edit.


On the left, select the ad set that you want to edit.

On the right, scroll down to the Placement section and select Edit placements.


Next, learn how to

analyze your ad campaigns.