The file manager tool is where you'll manage all of the materials that you need to build your pages, posts, and emails. Use the file manager to upload and host PDFs, images, fonts, videos, audio files, and any other support file type on HubSpot's content delivery network servers.
Learn how to import files, create folders, and manage your files in the file manager tool. You can also upload files in the content editor of a blog, page, or email.
Upload your files
In your HubSpot account, navigate to Marketing > Files and Templates > Files.

Click Upload files to browse your computer's hard drive for files to upload. You can also drag files from your hard drive to the open file manager window and release.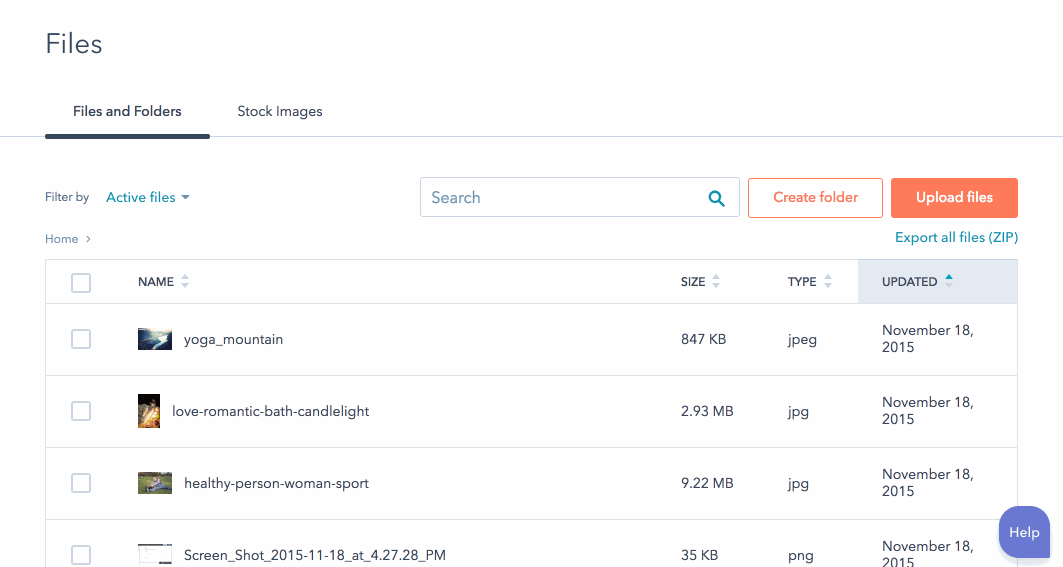 It's possible to upload multiple files, and upload time depends on the size of the file. If you have any trouble uploading your files, make sure you're uploading a supported file type
To create a folder for your files:
Click Create folder.


Give your folder a name, then click Save.
You can upload new files in this folder, or move existing files into the folder you've created.

Manage your files
Depending on your goal, there are a few ways to manage your existing files:
Search for a file
Use the search bar at the top of your file manager to look up a file by name.

To filter for archived files, use the Active files dropdown menu.
If you'd like to export a copy of all files in your file manager, click Export all files

at the top of your file manager dashboard.
Rename or move a file
To rename a file or move it to a new location:
Hover over the file in your file manager.
To move a file:

Click Move.
Select the

folder

where you want to move this file, then click Move.
To rename a file:

Click Rename.
Update the file name, then click Rename to save your changes.
Move or delete multiple files
To move or delete files in bulk:
Select the checkboxes next to the files

you want to modify.

To move multiple files into a new folder:

Click Move.
Select the folder where you want to move this file, then click Move.

To delete multiple files:

Click Delete.
Click Yes, delete to confirm your choice.
Get file URL, replace a file, clone and edit, or archive a file
Click directly on the file to open the slide-in panel. Here you can access the following:
File URL: use the

File URL

dropdown menu to change the domain your file is hosted on. C

lick

Copy URL

to copy the file URL directly to your clipboard.


Please note: by default files are hosted on HubSpot's content delivery network system domain, with cdn2 appearing in the domain of the file URL. You can update your settings to host all files on one of your connected subdomains.

Replace:

to replace an existing file, click Replace. Browse your computer hard drive and select a new file to replace the asset in your file manager. Note that

the old file may be

cached on HubSpot's CDN

for up to two hours after it is replaced.

Archive:

if you want to hide a file from appearing in your file manager, click on the file name and click

Archive in the sidebar pane. Note that

an archived file can

still be accessed at its public

file URL.
Clone and edit: to modify an existing file, click Clone and edit

to launch the

photo editor tool. Make edits to the clone of your file, then click Save.
Delete: to delete a file, click Delete in the right pane, then click Yes, delete file

to permanently delete the file