The HubSpot-Salesforce integration may encounter sync errors which prevent data from syncing. You can identify and resolve these sync errors in your Salesforce integration settings.
In your HubSpot account, click your account name in the top right corner, then click Integrations.
In the Salesforce integration section, click the More dropdown menu and select View details.
Click the Sync errors tab. The number in the tab represents the number of sync error types that have occurred.
The sync errors dashboard displays the sync error type and the number of items affected by the sync error. To learn more about a sync error, hover over the error and click View details.
The error details pane will display a descriptive summary of the error, as well as a list of affected items. Some errors will also include a More details section, which can be expanded to view specific information about the error. Follow the instructions or use the information in the error details to resolve the error.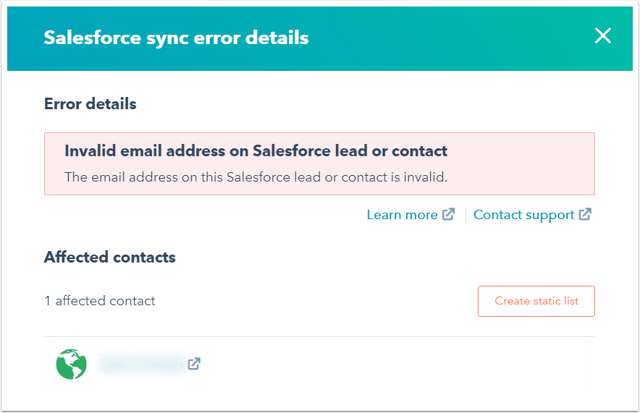 After you've resolved the issue(s) that caused the error, return to the sync errors dashboard. Hover over the error and click Resync

to attempt resyncing the items affected by the error.
If the error is resolved, the affected items will sync successfully and the error will disappear from the sync errors dashboard.

Once all your sync errors have been resolved, the sync errors dashboard will display a No sync issues message.
Learn more about resolving common Salesforce integration sync errors.