If you do business in multiple currencies, you can add currencies to your account and set an exchange rate compared to your primary company currency to more accurately track the amount of your deals.
Please note: Professional accounts can have up to 30 currencies; Enterprise accounts can have up to 200 currencies.
To manage your currencies in HubSpot:
In your HubSpot account, click the settings icon

settings

in the main navigation bar.
In Account Defaults, click Add currencies.
Click the Currency dropdown menu and select your new currency.
Enter the exchange rate from your primary currency to the new currency in the Exchange rate field.
Click Save.
To manage currencies you've added, click the Currencies tab to see a list of your currencies and make changes as needed:

At the top, you'll see your Company currency. Any amount totals and deal reports in your account will use this currency, taking into account the exchange rates you've set for your other currencies. To change your company currency, click Edit to the right, select a new currency from the dropdown menu, then click Save.
In the table below, you'll see a list of all the currencies you've added to your account, along with the exchange rate for each. To change the exchange rate for a currency, hover over it, then click Edit. Update the Exchange rate field, then click Save.
You can now set the currency of deals using the Currency property. The amount of the deal will appear in the selected currency. Based on the exchange rate you've set for the currency, the amount will be converted to your company currency in the Amount in company currency property.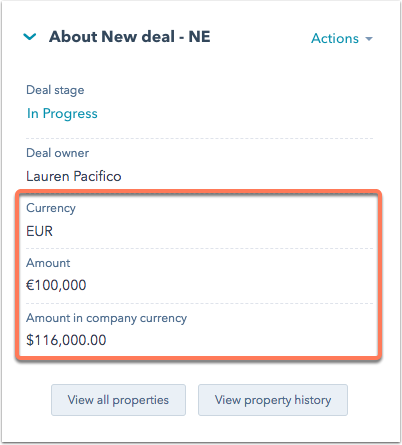 If you're a Sales Hub Professional or Sales Hub Enterprise user and are associating products with your deals, you will need to manually remove and re-add the product line item to the deal in order to update the line item's currency to match the deal's.
On the deal record, locate the Product card. There will be a "Missing currency" alert next to any line item that needs to be updated. Click Edit products.
Hover over the line item and click Actions > Remove.
Once the line item is removed, click Add product.
In the Add Products pane, select the product(s) you wish to associate with the deal in the updated currency, then click Add.
Click Save, then navigate back to the deal record. The product currency should now match the deal's currency.