The Instagram and HubSpot integration combines HubSpot social publishing with Instagram so you can publish to Instagram on the web from HubSpot. The instructions below walk through setting up your device for Instagram as well as connecting your Instagram account in HubSpot.
1. Ensure that you're an Admin for Facebook pages
Without administrative permissions on your page in Facebook, you will not be able to connect your Instagram account. Read more about administrative roles here.
2. Switch to a Business Profile in Instagram on your mobile device
Open the Instagram account that you would like to connect and switch to a Business Profile:
In your Instagram mobile app, navigate to your profile and click the gear icon beside Edit Profile.
Select Switch to Business Profile.
Click Continue to move through the welcome steps.
Once you arrive at the Connect to Facebook screen, select Choose Page.
A list of all the Facebook pages you're an Administrator of will be shown. Select the page you wish to connect and then select Next in the upper right-hand corner.
You'll then be brought to the Set Up Your Business Profile screen. Enter information into the fields (you must enter information for at least one field). When you're done, press Done in the upper right-hand corner.
3. Connect Instagram to your HubSpot account
To connect Instagram to your HubSpot account:
Navigate to Social > Social Settings in your HubSpot account.
Under the Accounts tab, click Connect account in the upper right-hand corner.

In the dialog box, select Facebook & Instagram.
In the Select accounts dialog box, select the Facebook account and the Instagram account you'd like to connect, and then click OK.
A dialog box will appear. Click Compose a message to create your first message with the integration. If you're not ready to compose yet, click Not yet.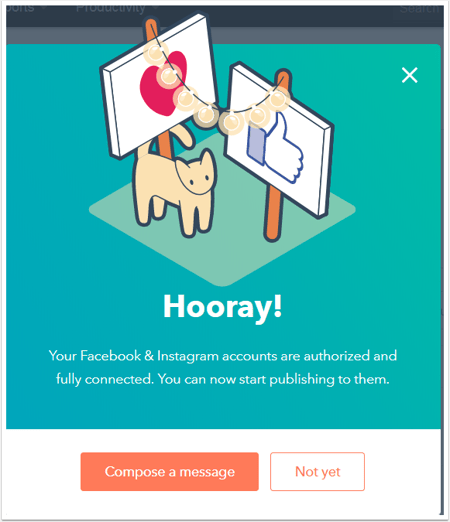 4. Posting to Instagram from HubSpot
Now that your integration is set up, you can post to your Instagram account from your HubSpot social tool. A few things to keep in mind before posting:
Comments will not appear.
Locations are not supported, but posts can be edited on Instagram to reflect locations.
Posts cannot be deleted inside of HubSpot.
To post to Instagram from HubSpot:
In your HubSpot account, navigate to Social > Publishing.
In the upper right-hand corner, click Compose a message. Select the Instagram icon to post to that account. Please note that it may take a few minutes for Instagram to appear as a connected account. If you're not seeing it, refresh the page.
On the next screen, set up the following:
Select an account to post from using the Posting from: dropdown menu.
Enter a message in the text box area. Emojis and hashtags

are supported

, and GIFs and videos

are not supported

at this time. Mentions (@mention) are not auto-completed here, but if you enter the username correctly, Instagram will acknowledge the mention when the post is live. Your post message has a limit of 2,000 characters.

Select an image for your post. Images should be square and under 5MB for best results (Instagram recommends an image size of 1080px by 1080px).

Images need to be within a 4:5 and 1.9:1 aspect ratio in order to publish; this is a limit on Instagram's API.

Filters are not available as they are in Instagram; however, you can hover over the image and edit it in your file manager, as well as resize and crop as needed.

Use the When:

dropdown menu to select a

date

and

time

for your post to publish.

You can click your Instagram icon in the Schedule another: section to create another Instagram post for a future publication.
You have the option of associating your post with a HubSpot campaign using the Campaign: dropdown menu.
When you're ready, click Schedule message. If the post isn't quite ready and you'd like to continue working on it later, click Save as draft.
Please note
: interaction data for your messages such as
likes and comments updates roughly every 15 minutes.