Learn how to reset a forgotten password, change your password from within HubSpot, or reset the password of another user in your account.

If you've forgotten your password, you can reset it from the login page by clicking Forgot my password. An email will be sent to you with instructions for resetting your password.

Please note: if the password reset email doesn't appear in your inbox, you may need to add hubspot.com to your email allowlist.

When entering your new password, HubSpot will check the password against publicly leaked passwords. If your password matches a leaked password, you'll see an error that says That password is insecure. This does

not

indicate that your HubSpot account has been compromised, but for security reasons you will need to choose a different password. Learn more about account security and passwords.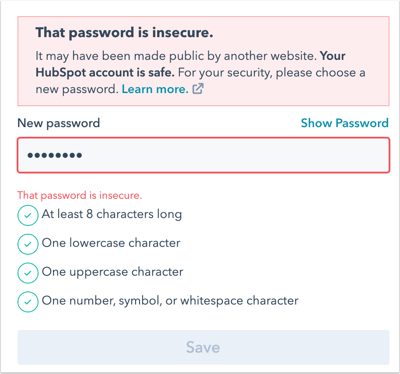 If you are unable to log in after resetting your password, try these troubleshooting steps.
Change your password when logged in to HubSpot
Navigate to Account Menu > Profile & Preferences.
In the left sidebar menu, navigate to Security.
In the Password row, click Reset password.


In the dialog box, enter your current password and your new password.
Click Reset password.
Reset another user's password
If you have permission to add and edit users in your HubSpot account, you can also send reset password emails to other users:
In your HubSpot account, click the settings icon

settings

in the main navigation bar.
Click Users & Teams in the left sidebar menu.
Hover over the name of the user, then click the Actions dropdown menu and select Reset password.
The user will be sent an email with instructions to reset their password.