The HubSpot & UberConference integration is designed to save you time and effort by allowing you to schedule UberConference meetings with your contacts right from within HubSpot CRM, and seamlessly keeping your UberConference meetings in sync with HubSpot CRM.

What is included in this integration?
You can now schedule new UberConference meetings with your contacts, right from within the HubSpot CRM. Once you enable the integration you will see a new form in the lower-left of every contact record in your CRM, which allows you to schedule meetings with that contact via UberConference.

Any UberConference meeting you schedule via this form will be automatically logged and scheduled as a meeting within HubSpot CRM, including all UberConference dial-in details.

Any meetings you schedule directly with UberConference that also include one of your contacts will automatically be logged in HubSpot CRM.

Recurring meetings are not supported at this time

Setting up the UberConference integration
Follow the steps below to set up your HubSpot to UberConference integration.
From your HubSpot Sales account, navigate to

Account Menu

>

Integrations

.
Go to the All integrations tab > locate the UberConference Integration section > hover and click View integration.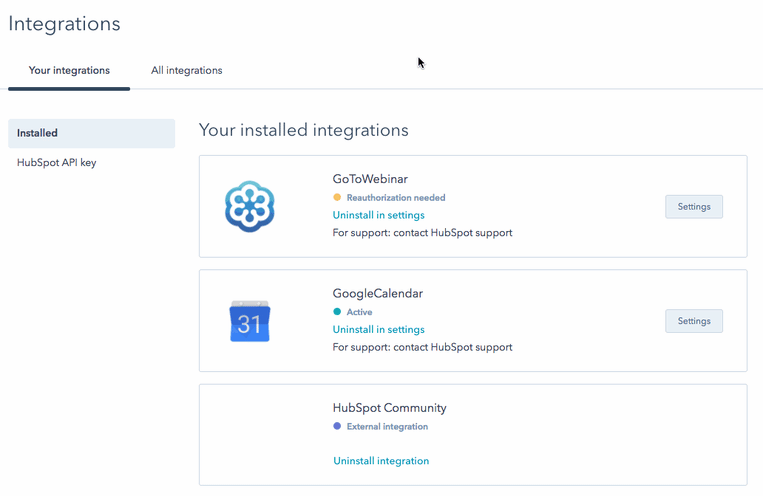 Click

Authorize HubSpot to access UberConference

to allow the two accounts to connect.
On the next screen, enter your UberConference credentials, then click Log In.
Click

Authorize

to grant HubSpot access to your UberConference account. Once you authorize access, you will be automatically redirected back to the UberConference settings page in HubSpot.

Scheduling a meeting
Navigate to Contacts.
Click the name of the contact to access the contact record.
Scroll down to the UberConference section on the left-hand side of the contact record.
Enter the Date,

Time,

and

Duration

of the meeting. You also have the option to

add a title and additional attendees if you'd like.

Click

Schedule UberConference

.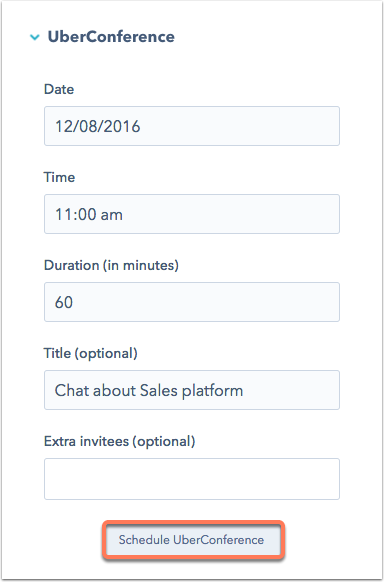 You'll see a success message once the meeting has been created.
Your invitee(s) will receive an invitation in their inbox(es) directly from UberConference and the meeting will appear on your contact's timeline:
You've now scheduled your first meeting with UberConference and data is syncing between HubSpot and UberConference, keeping your CRM up to date with no effort on your part.
Any UberConferences you schedule with one of your CRM contacts will be automatically logged within the HubSpot CRM, whether scheduled through the HubSpot CRM or directly with UberConference

Updates to meetings will be synced between UberConference and HubSpot CRM every 10 mins.

You can disable the integration at any time from the UberConference settings screen within HubSpot