Troubleshoot the HubSpot Sales Office 365 add-in
Last updated: June 28, 2023
Available with any of the following subscriptions, except where noted:
The information below helps with troubleshooting certain issues with the Office 365 add-in.
Please note: if you're using HubSpot Sales Outlook desktop add-in, check out this article instead.
Cannot install the Office 365 add-in
If you're having trouble installing the add-in, make sure you meet the following requirements:
Use a supported version of Outlook. The following versions of Outlook are

not

fully supported:
Have access to the Microsoft store.
Have the necessary permissions from your email administrators to use third party add-ins in your inbox.
Install the add-in in each inbox if you're using multiple inboxes.
Add-in grayed out in Outlook desktop
If you are using Outlook for PC or Outlook for Mac, the add-in will be grayed out if the Reading Pane is turned off or hidden. Ensure that the Reading Pane is turned on by following this Microsoft article for Outlook for PC and this Microsoft article for Outlook for Mac.
If the Office 365 add-in in Outlook for PC is still grayed out in both your main Outlook inbox ribbon and within your Outlook message ribbon, there's an issue with your Outlook program itself. Try closing Outlook and reopening it.
If the add-in is enabled in your main Outlook inbox ribbon but grayed out in your Outlook message ribbon, try the steps below:
If your email is not being encrypted, try repairing Outlook:

Open the Start menu in Windows.
Search for and select Uninstall a program or Add or remove programs.
Locate and click the Outlook or Microsoft Office program, then click Modify or Change.
In the dialog box that appears, you'll be asked to select the Repair mode. Select Online Repair, then click Repair.
Add-in hidden on Outlook on the web
The add-in might be hidden in a menu on Outlook on the web. Learn how to customize actions on your menu so the add-in always appears in the toolbar.
Stuck in an inbox connection loop
If the add-in prompts you to connect your inbox, but leads you in a loop, it is likely your inbox is an alias. Although Office allows you to sign in with an alias, you can only connect your primary email inbox account to HubSpot.
When you install the Office 365 add-in and you're prompted to sign in, you must sign in with your primary email address. For example, if you have an email alias account of tom@acme.com, but your primary email address is tom.anderson@acme.com, you should connect with tom.anderson@acme.com. If you're not sure what your primary email address is, check with your IT team.
Once you understand what your primary email address is:
Follow these instructions to

modify your profile

in Outlook, and update your current email address to your primary email address.
Connect your primary email address to the add-in instead of your alias.
With your primary email address connected, Outlook should allow you to continue using the alias and the inbox connection loop should end.
Stuck in a login loop
If you are using the Office 365 add-in on Outlook on the Web and are repeatedly asked to login to your HubSpot account, check your web browser setting to make sure you are not blocking third-party cookies. Review the documentation below for your specific browser:
Add-in pane not loading
If you're running macOS Catalina and Safari 13 on your device, the Office 365 add-in side pane may not load when using Outlook on the web or desktop. This is caused by security settings on Safari, which you can update following the steps below:
On your device, open Safari.
At the top of the screen in the menu bar, click Safari > Preferences.
Click the Privacy tab.
Clear the Prevent cross-site tracking checkbox.

Emails are not being tracked
There are several reasons why your email may not have been tracked when using the Office 365 add-in:
Your inbox hasn't been connected. The HubSpot Sales Office 365 add-in requires a connected inbox.
The add-in wasn't open when the email was sent. The add-in

must be open

in order for the email to be tracked. Learn how to pin the add-in open in your inbox, or to open the add-in:

If you're using an Outlook desktop account on a PC or Mac, click Sales Tools in the Outlook message ribbon. If the Sales Tools icon is grayed out, restart Outlook.
If you're using an Outlook on the web or Outlook.com account, compose a new email and click the HubSpot sprocket icon

sprocket

in the bottom right-hand corner of the email composition window.

Emails sent in Plain Text mode cannot be tracked. If you see that emails are sent in Plain Text, switch to HTML mode in the email client you're using with Office 365.
If you notice a message on a logged email that states

"Tracking data is not available for this email. [user] chose to log this email but not track it,

"

Outlook may have attached the HubSpot tracking pixel via CID. CIDs

attach

the pixel image to the email that you're sending, then uses standard HTML image tags that reference the image to embed it in the email when the contact opens it. The tracking pixel therefore isn't actually inserted into the email body, which prevents the email from being tracked. Keep in mind that this often occurs when using the New Outlook for Mac, so it is recommended to switch back to the legacy version.
The Track email opens box was not selected when the email was sent. You'll need to check the box for each email you'd like to track.

Tracking is turned off because there is a conflict with another add-in or security software. Turn off all other add-ins installed in Outlook, then temporarily turn off any security programs to see if tracking resumes.
Azure Active Directory configuration error
You may receive an error that states, "You cannot access this application because it has been misconfigured. Contact your IT department and include the following information: Undefined Sign-On URL for application 'HubSpot Sales'". This indicates an issue with your company email provider's Azure Active Directory configuration.

This message is not sent from HubSpot, but from your Azure Active Directory configuration. You will need to work with your IT resource to resolve this. In this case, HubSpot recommends that your IT team or Office 365 admin grant access to HubSpot. If they're centrally deploying the add-in, review this help documentation from Microsoft.
Debug logs
When working with HubSpot support to troubleshoot the O365 add-in you may be asked to provide debug logs. When the add-in is installed it stores information in report logs. If your add-in isn't functioning as expected, these logs help the support team take a closer look into what's happening with the add-in.
In your Office 365 inbox, click

add

New message in the top left.
In the bottom right of your email composition window, click the HubSpot sprocket icon.
In the panel on the right, scroll to the More section, then click Add-in settings.
Select Help & troubleshooting.
Select Need more help?, then click Send debug logs. This will populate the debug log content in the email compose window and populate the To field with a default email address.
To send the logs to the support specialist you're working with, enter their email address in the To field, then click Send.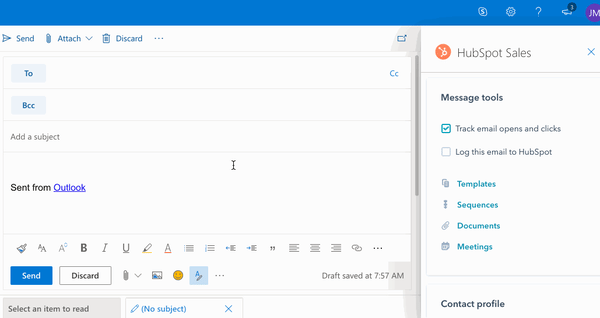 Thank you for your feedback, it means a lot to us.