Two-factor authentication adds an extra layer of security on top of your username and password when logging into HubSpot by requiring verification of the login through a second linked device, such as an SMS message or Google Authenticator.


How is two-factor authentication more secure?
Because two-factor authentication requires that someone logging into an account has access to a physical object belonging to the account owner only, the risk of a potential intruder gaining access to your account is much lower.
How can I enable two-factor authentication?
First, keep in mind that HubSpot's two-factor authentication is only enforced for logins using your HubSpot username and password. It cannot be used if you're using Google to sign into HubSpot.
To set up two-factor authentication in HubSpot:
Log into HubSpot and click your photo or avatar in the top right-hand corner, then click Profile & Preferences.
In the left sidebar menu, click Security.
In the Two-step verification section, click Set up primary method and follow the on-screen instructions. You'll need access to the device you intend to use as your other login method (e.g., your mobile phone with SMS or the Google Authenticator app).

Once two-factor authentication is set up, you'll be prompted to enter a code that is delivered to your device.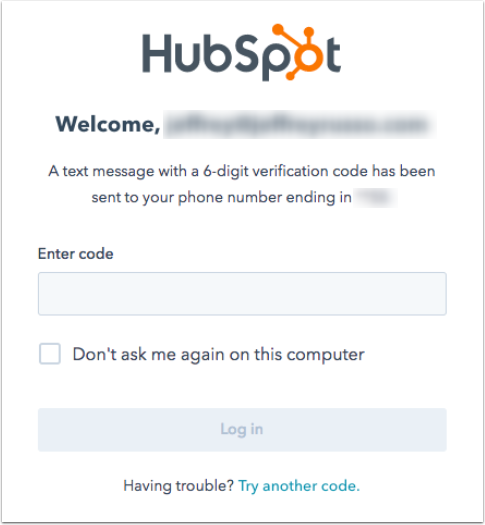 After setting up your primary method, click Set up secondary method and follow the on-screen instructions.
Please note: you should enable Google Authenticator as your verification method. Google Authenticator keeps your account and data more secure. SMS verification is more vulnerable to compromise and hijacking than app-based authentication. If possible, enable both a primary and secondary method, and make sure to set up and download your backup codes. A combination of Google Authenticator verification and stored backup codes for recovery will give you the most secure and reliable two-factor authentication setup for your HubSpot account.

If you lose all of your two-factor authentication methods, you won't be able to access your account until HubSpot Support resets your two-factor authentication. This can take up to 72 hours.
What countries are supported by SMS two-factor authentication?
Two-factor authentication using the Google Authenticator app is supported globally. When using SMS two-factor authentication, the supported countries are limited to the list below:
Argentina
Austria
Australia/Cocos/Christmas Island
Belgium
Brazil
Bulgaria
Canada
Chile
China
Colombia
Costa Rica
Czech Republic
Cyprus
Denmark
Estonia
Finland/Aland Islands
France
Germany
Greece
India
Ireland
Israel
Italy
Japan
Latvia
Lithuania
Luxembourg
Malta
Mexico
Netherlands
New Zealand
Norway
Panama
Peru
Poland
Portugal
Romania
Singapore
Slovakia
South Africa
South Korea
Spain
Sweden
Switzerland
United Kingdom
United States