You can sync HubSpot engagements (emails, notes, meetings, tasks) with Salesforce activities and tasks to give you a view in Salesforce of the historical interactions with a lead or contact, or to be able to view your team's productivity in aggregate.
Please note: in order to sync CRM engagements (such as meetings and sales calls), you need to have the HubSpot CRM enabled. Read more on how to enable the CRM for your HubSpot Sales or Marketing account here.
For example, a scheduled event logged in the HubSpot CRM:

Will sync over to Salesforce as a task/activity:
Please note: when you sync calls from HubSpot, the call will be created as a task in Salesforce, and the call recording will be added as an mp3 file link in the task's comment.
To turn on the feature:
In your HubSpot

Marketing

Professional

or

Enterprise

account or in your

Sales

Professional

account, click your photo or avatar in the top right-hand corner, then click

Integrations

.
Under theYour integrations

tab, locate

Salesforce and then click

Settings

to the right of it.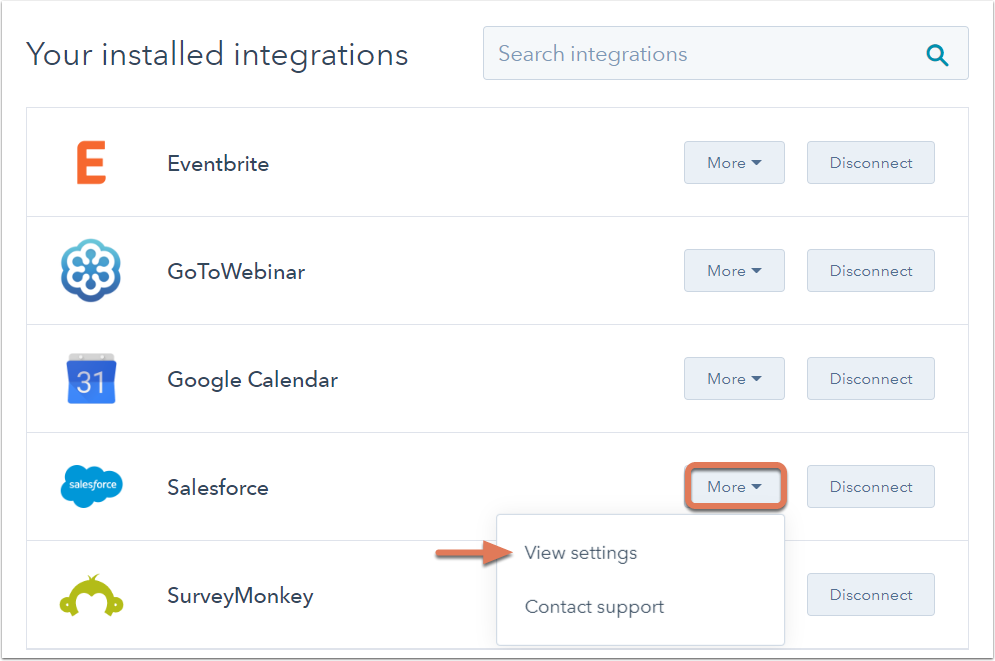 Select the Timeline sync tab at the top of the screen.
Under this tab, you'll see m

arketing and sales activities such as form submissions, email interactions, and meetings. You can select the checkbox beside each activity to specify which ones should sync to Salesforce.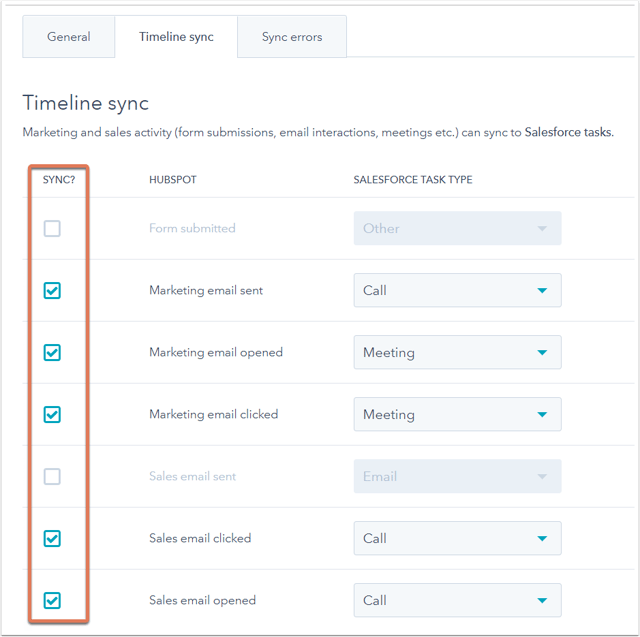 Scroll to the bottom of this screen, and toggle the Salesforce task sync switch to ON.

Only a select number of task statuses are supported in HubSpot. If you're syncing tasks between Salesforce and HubSpot, the system makes sure the statuses are consistent. The current supported default statuses are:
NOT_STARTED
IN_PROGRESS
WAITING
COMPLETED
DEFERRED
Please note: existing HubSpot engagements will not sync retroactively. After the task sync is enabled, any new tasks created in HubSpot will be synced over to Salesforce.