Activities in a record's timeline can be associated to other records. When an activity is associated to another record, the same activity will appear in that record's timeline as well.
By default, a record's timeline will contain activities from any associated contacts, companies and the five most recent open deals. Any additional replies in an email thread will be associated with the same records as the first email in the thread.
However, you can opt to associate a single activity from one record to another, or associate multiple activities when you're creating a new deal or ticket record.
To associate an activity to another record:
In the record's timeline, on the activity to associate to another record and click Edit.
In the Associated with section, click

add

Add a [object] to search and select the record to associate the activity to.

This activity will appear in that record's timeline.

You can also disassociate an activity by deselecting a record.
To associate multiple activities in a record based on a time-frame when creating a deal or ticket:
In the upper right, click

Create deal or Create ticket.
In the right pane, Associate deal/ticket with section, click

the

Company

or

Contact

dropdown menus, then search and select the company or contact to associate with the new object.
To associate activities on these records to the new object, select the

Add timeline activity from [existing record] to this deal/ticket

checkbox and click the Last 30 days dropdown menu to select the

time-frame where the record's activities will be associated to the new object.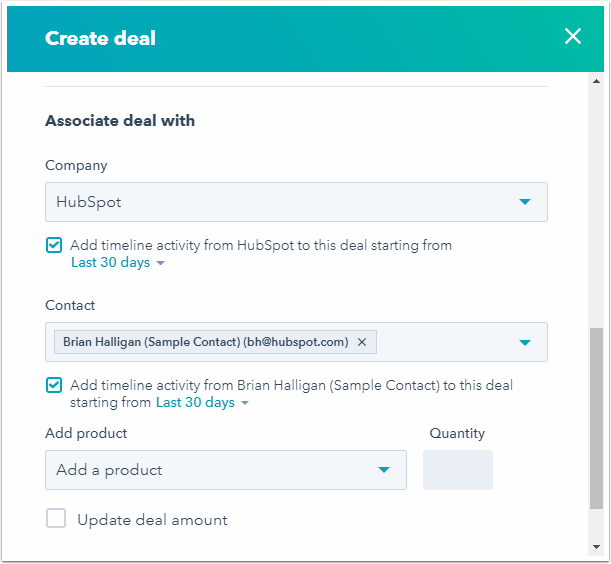 Enter the other fields and click Create. The resulting object should pull in the associated activities from the associated records based on the timeframe selected.
Please note: all activities created before November 13, 2017 will retain their original associations, but you can edit the associations for these activities on the timeline.