Sales Hub Starter and Professional users can integrate Slack with their HubSpot messages tool. With this integration, you can receive notifications about incoming live chats in a dedicated Slack channel as well as chat with visitors directly through a Slack thread.
This article walks through the following:
Integration requirements
You need to be logged in as a Sales Starter or Professional user with admin permissions.
When connecting Slack with messages, you need to be a Slack administrator for the workspace you want to install the integration to. If you're not, there are two options here:

Recommended: ask your Slack administrator to temporarily grant you admin permissions in your Slack workspace. These permissions are no additional cost to your company and can be revoked immediately after installing the integration. The integration will not be removed once your Slack admin permissions are revoked.
Temporarily give a Slack admin at your company a paid Sales user role and admin permissions in your HubSpot account so they can install the integration. The integration will not be removed once they are downgraded or deleted from your HubSpot account.
Setting up the integration
In your HubSpot account, click the settings icon

settings

in the main navigation bar.
In the left sidebar menu, click Sales > Messages.
Click the Slack integration tab. Then click Connect account.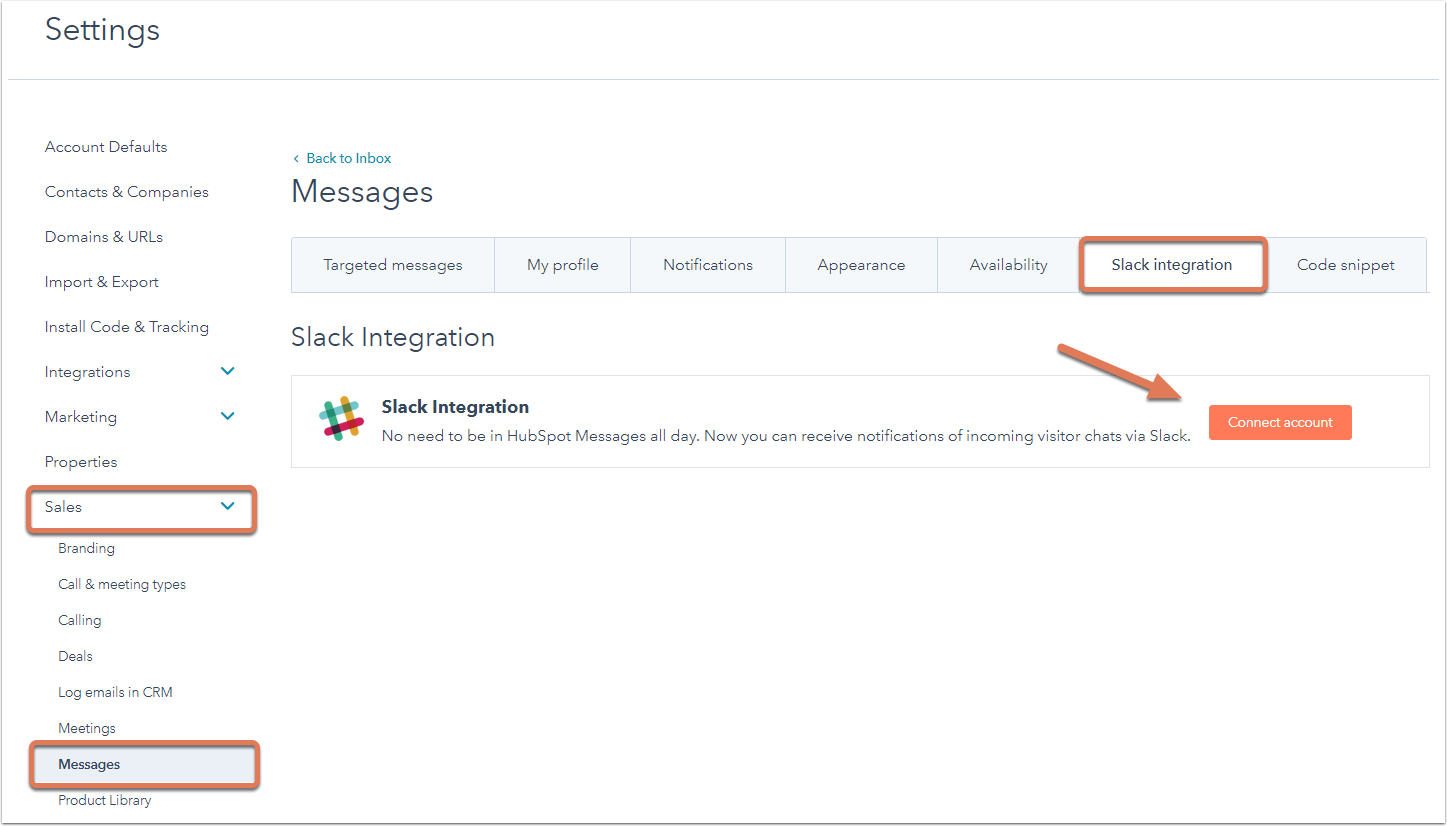 In the dialog box, click Connect to Slack.
Please note: pop-ups must be enabled in your browser to reach the next step. If nothing happens, allow any blocked pop-ups and then try again.
On the next screen, click Authorize to allow HubSpot to access your Slack account.
On the Slack integration tab, click the Select channel dropdown menu to select a Slack channel where you'd like new conversations to be sent. To disconnect Slack from your messages, click Disconnect from Slack.
Please note: if you are sending notifications to a private Slack channel, you need to invite the HubSpot integration to that channel. After selecting the channel, @HubSpot in the channel so you can see your notifications come through.
By default, Slack notifications are turned off. After integrating for the first time, you'll need to enable notifications in your messages settings. If you have notifications enabled, remove the integration and then reinstall. HubSpot will remember you had them turned on and turn them on automatically.
Using the integration
When Slack integrations are turned on, you'll receive notifications of incoming chats to your designated Slack channel along with an option to return to the inbox or chat directly from Slack.
The notification sent to Slack contains some key information: the initial message, status of the conversation, page chatted from, who the conversation is assigned to, and the HubSpot owner of the contact if known.
If you click Reply in Inbox, you'll be taken directly to that chat in HubSpot. Alternatively, if you reply via the Slack thread, the whole conversation will still be logged in the inbox in real time for reference.