Use HubSpot's blog tool to create compelling content that educates your audience about your business. Before you get started, be sure to update your blog settings, company branding, and connect your domain.
Create a new blog post
In your HubSpot account, navigate to Marketing > Website > Blog.

Use the blog dropdown menu to select the blog for your new post.
In the upper right, click Create blog post. Or hover over an existing post and click Edit.
Choose whether to create a post in draft mode or inline edit mode:

Select Draft Mode to focus on writing and content. This editor removes publishing options from view until you're ready to optimize and publish your post in the inline editor. Learn more about how to work in draft mode.
Select Inline Edit Mode to use the classic WYSIWYG (What you see is what you get) rich text editor.
Edit blog post content
Hover over the blog post title module and click the pencil icon

edit

to enter your blog post title.
Hover over and click the post body area of the editor. This action will reveal a formatting menu.
Use this menu to add text, images, and CTA buttons to your post. Learn more about using the rich text editor interface.
By default, your blog listing page will show the first paragraph of your post in the preview. You can customize this by manually adding a Read more separator:
In the post body, place your cursor where you want the preview of your post content to end.
Click Insert and select Read more separator.
You can drag and drop the separator into place as needed.
Edit blog post settings
Click the Settings tab to customize your blog post details to update your post settings:

Edit the blog post title.

Click Advanced settings to expand additional options:
Review and optimize your blog post
Use the optimize tool in the editor to review suggestions to improve your content for SEO best practices. To organize your overall content strategy,
attach your content to an SEO topic.
At the top of the editor, click Optimize.
You'll see groups of related SEO tips open in the left panel. Any items that needs action will have a red circle with the number of items that need to be addressed.
Click a

grouping

to expand more details:

SEO recommendations with a green checkmark have been completed.
SEO recommendations with a grey checkmark need to be completed.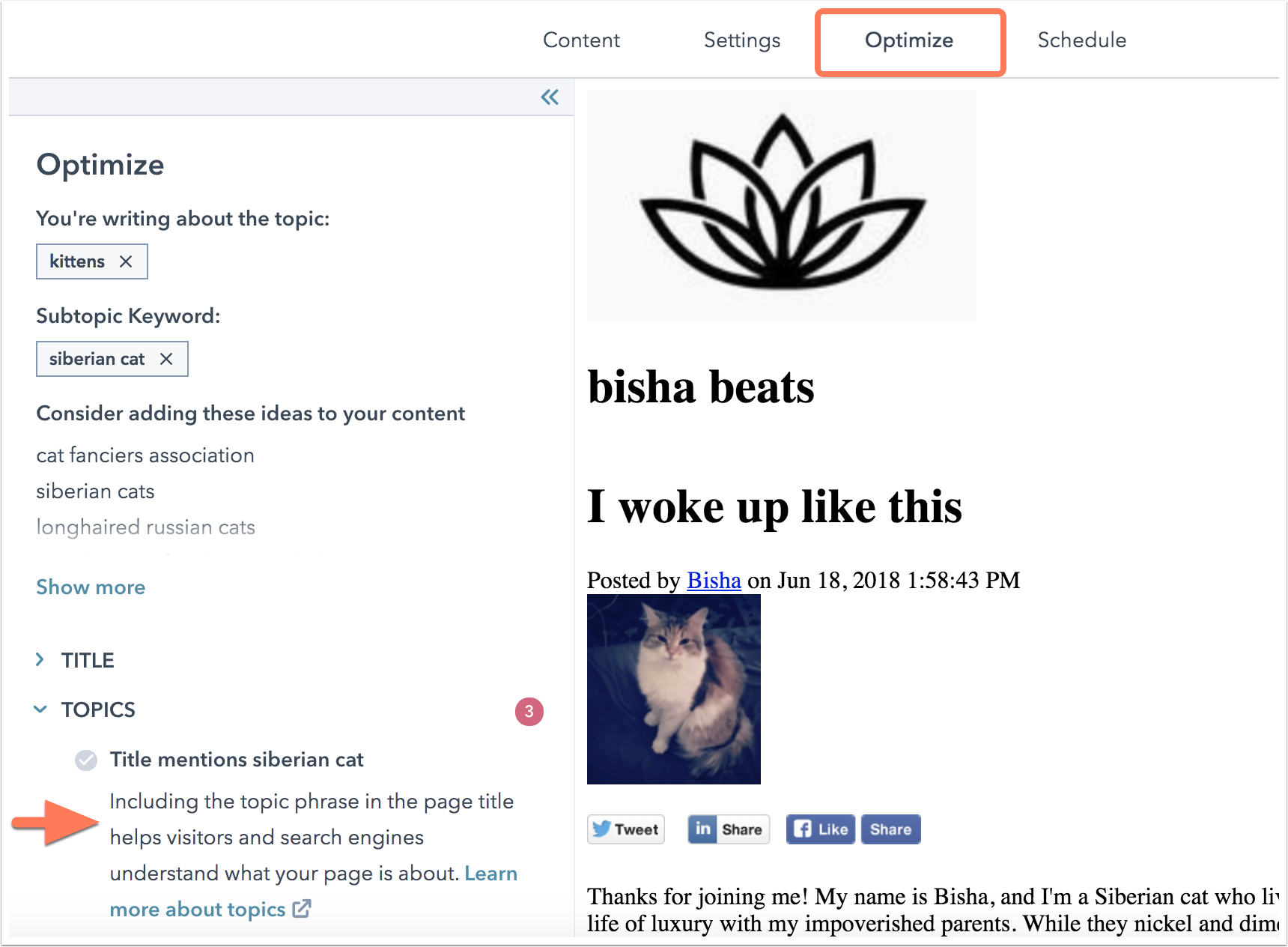 Preview your blog post
In the upper right, click Preview to see how your blog post will appear to visitors.
Device preview:

click

Open in new window

to see a live preview of your blog post in a new tab in your browser. This preview link will work before your post is actually published. Click

Copy shareable link

to copy the link to your clipboard to share it with your team.
Click Full Post View to preview the specific blog post you're editing. Click Main List View to preview your blog's homepage.
If you've enabled Accelerated Mobile Pages (AMP) for your blog post, click Google AMP to see how your blog will appear on a mobile device.
Smart preview:

click the

Preview as

dropdown menu to preview how your blog post will appear for different contacts in your database.

Select a

contact

to preview how

personalization

will appear based on that particular contact's property values. Click the second

dropdown menu

to select a specific contact from your database.
Select a smart rule

to preview how smart content

on your blog will appear to contacts who meet its criteria. Click the second

dropdown menu

to select a specific smart rule to preview.

Device type:

click

Mobile + Tablet

to see a live preview of your page on a phone or tablet device. Click Desktop

to see a preview of how your page will appear on a web browser.
Publish or schedule your blog post
After you've added your content, optimized it for search engines, and previewed how it will look to visitors, you're ready to publish your blog post.
Click the Publish or schedule tab and select Publish now

to publish immediately, or

Schedule for later

to publish this post at a future date and time.

If there are any required items missing from your page, you'll see an alert in the upper right corner of the Publish

button.
Once you've finished completing all the required items for your blog post, click Publish.