The HubSpot and Sansan integration syncs your business card information to your HubSpot account.
HubSpot will only sync contacts created or modified from the day the integration is installed. To sync all pre-existing contacts you will need to import them in to your HubSpot account.
In your HubSpot account, click the

Marketplace icon

marketplace

in the main navigation bar, then select

App Marketplace

.

Search for the SanSan integration,

and select

SanSan

in the results.
In the top right, click

Connect app, and log in to your Sansan account.
In the dialog box, enter your API key and select the checkbox next to your public and shared tags you want to sync to HubSpot.
Please note:
It is recommended that an admin installs the integration as HubSpot can view tags and contacts that the API user has access to.

HubSpot will only sync public or shared tags. HubSpot will sync up to 300 tags.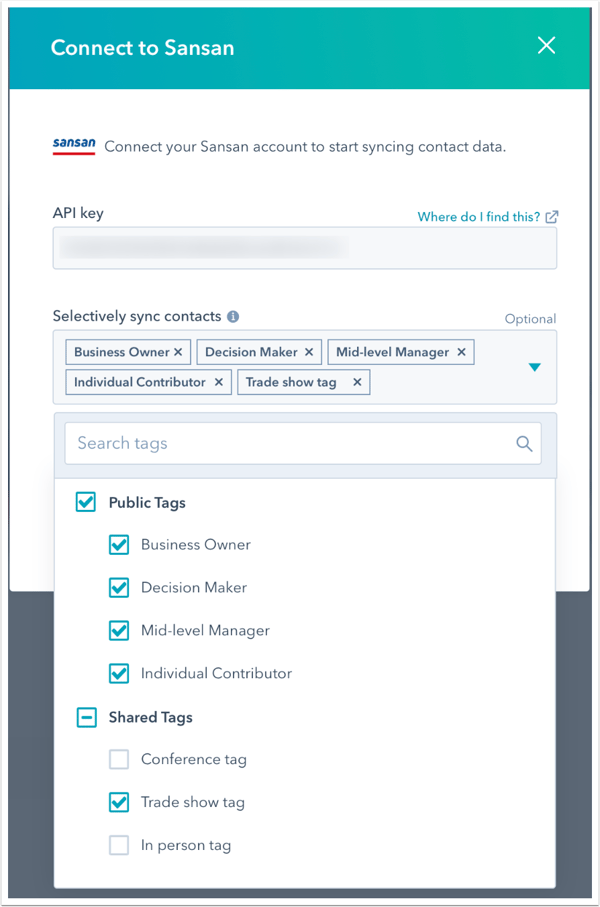 In the Sync Settings tab, under the Customize how SanSan syncs to HubSpot section, use the dropdown menus to edit how your contact information is synced to HubSpot.
Please note: the setting for When a Sansan contact doesn't exist in HubSpot cannot be edited.
If you haven't created your tags during installation, navigate to the Tags section, and click Add tags.
In the left sidebar menu, click the Choose tags dropdown menu. Select the checkbox next to the tags you want to sync to HubSpot. Click Add.
Please note: if no tags are selected all new Sansan contacts will sync to HubSpot.
When you had added your tags, click to toggle the Selective sync on/off for each tag.
Navigate to the Contact properties tab to view the status of your contact property mappings. If your mappings are working correctly you will see a Mapping status of OK, if your contact property is not syncing you will see a status of Warning or Issue, hover over the status to view more details.
When the integration is installed in your HubSpot account a new contact property Sansan tags will be added.
Below is the list of Sansan fields and the HubSpot contact property it will sync to:
Contact person - Contact owner
Company - Company Name
Position - Job title
Name - First Name
Name - Last Name
Phone - Phone Number
Email - Email
Website - Website URL
Postal code - Postal code
Prefacture - State/Region
City - City
Street - Street address
Tags - SanSan tags
Please note: contact property mappings cannot be edited.