You can create a ticket for any incoming conversations in your inbox to better manage your contact's experience with your company. When responding to conversations in the inbox, you can view and manage the associated ticket's details as you follow-up with the contact. In the right sidebar, use the contextual information about the associated ticket, contact, and past conversations to inform your response to the contact's inquiry.
In your HubSpot account, navigate to Conversations > Inbox.
In the left sidebar menu, navigate to the Tickets view. This view includes any conversations that have a ticket associated.
Please note: you can only associate one ticket per conversation.
In the ticket view, click a conversation to open it.
In the right sidebar, view contextual information about the associated contact, the associated ticket, and the contact's past conversations with your company. To edit the ticket property values, click the property and enter a new value.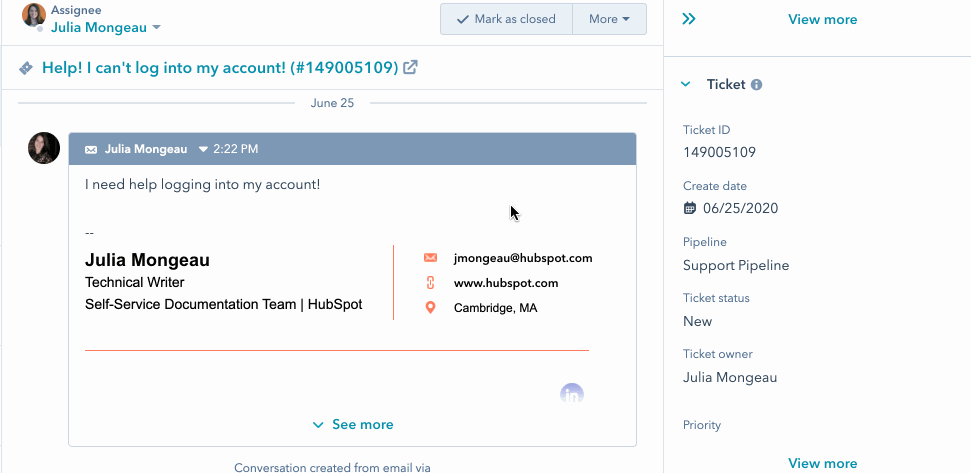 To view additional ticket information, click View more on the ticket card.
In the panel that opens on the right, click Edit the shown properties to customize the properties that display here.
Please note: you cannot edit the properties that display on the associated ticket cards in the inbox. Editing the shown properties will only apply to the properties that display in the Ticket details panel.
To respond to the contact, use the reply editor at the bottom. Learn how to respond to a conversation in the inbox.
To access the ticket record, click the ticket name at the top of the conversation. The ticket record will open in another tab in your web browser.
When you're done, you can close the conversation to mark the visitor's issue or inquiry as resolved. Keep in mind that closing the conversation does not close the associated ticket. To close the conversation, in the top right click Mark as closed. To close the ticket, in the right sidebar on the ticket card, click the Ticket status property and select Closed.