To remove all ineligible contacts from your HubSpot account, take the steps below:





Export unsubscribes and bounces
In your HubSpot Marketing Hub Basic, Professional, or Enterprise account, navigate to Marketing > Email.

In the

Manage

tab of your email dashboard, click

More tools

>

Export unsubscribes and bounces

.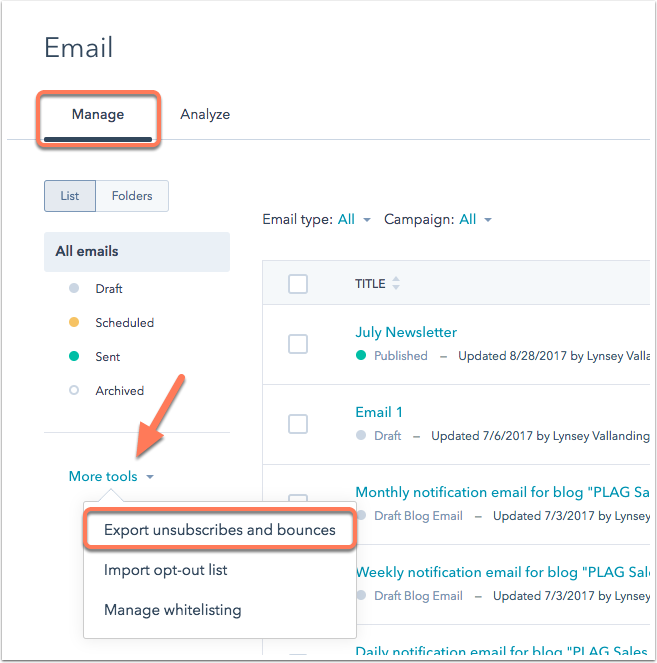 In the dialog box that appears, confirm your email address and check the

Include global unsubscribes and bounces

box to include contacts who have permanently hard bounced for

all HubSpot accounts.
Click Export.
You will receive the CSV file in your inbox shortly. This file includes

a cumulative list of all current and previously deleted contacts who have bounced from or unsubscribed from email.
Please note: this file will also include any email addresses that were previously imported as part of opt-out lists. Later in this process, you'll be reimporting this list so you can delete the ineligible contacts. If you do not intend to delete the entire list, be aware that importing it may create new contacts.
Filter your contacts
In Excel, delete columns with data about your specific email types to keep

only

the following:

Recipients
Portal Bounce
Portal Unsubscribe
Global Bounce

Use filters in Excel to identify Recipients that have a value of FALSE for

all

of the three remaining columns, and delete these contacts from the list. This will remove any contacts who have opted out of a specific email type, but did not opt out of all email communication from you.
Save your list as a CSV file.
Reimport and delete contacts in the list
In your HubSpot Marketing Hub Basic, Professional, or Enterprise account, navigate to Contacts > Lists.
Click Import button in the upper right.
Click Start an import and choose A CSV file > Contacts.
Click Select a file, then search for and select your CSV file. Continue the import process.
Once imported, navigate back to your lists.
You'll see a new static list that contains the contacts from your import. Click the name of the list.
Check the box in the header row to select all of the contacts on the first page of your list.
Click select all to select

all

of the contacts on your list.
Click More > Delete.