The Eventbrite and HubSpot integration is designed to help you seamlessly connect your online and offline marketing efforts. Once enabled, the integration allows you to easily collect new leads and track which contacts are registering for and attending the events you host.
What is included in this integration?
Every time someone registers for an event you are hosting, you'll see an Eventbrite registration event on that contact's timeline. If the person registering for the event is not a contact, a new one will be automatically created for you. All standard Eventbrite registration properties (Cell Phone, Company, First Name, Last Name, Home Address, Job Title, and Website) will be included in the timeline event.
A new contact properties group named Eventbrite will be automatically created, which will include two new properties: Last Registered Event Name and Last Registered Event Date. When a contact registers for a new event, these fields will be updated automatically.
Every time someone cancels their registration for your event, you'll see an Eventbrite cancellation/refund event on that contact's timeline.
Every time someone attends an event for which they've registered, you'll see an Eventbrite attendance event on that contact's timeline (this requires that you check-in attending users via Eventbrite).
The timeline events for registration, attendance, and cancellation/refunds can be used as criteria for smart lists and workflows.

Setting up the Eventbrite integration
Follow the steps below to set up your HubSpot to Eventbrite integration.
In your HubSpot Marketing account, select Account Menu > Integrations.
Click the All integrations tab. Hover over the Eventbrite integration and click View integration.
Click Connect to Eventbrite.
On the next screen, enter your Eventbrite email address and click Get started. You'll be prompted to create an account or log into your existing account.
Please note: only events created in Eventbrite by the integration user (the user who logs in when connecting Eventbrite and HubSpot) will sync to HubSpot. The email address used to log in here must be the account administrator in the connected Eventbrite account; you can see your account administrator listed here.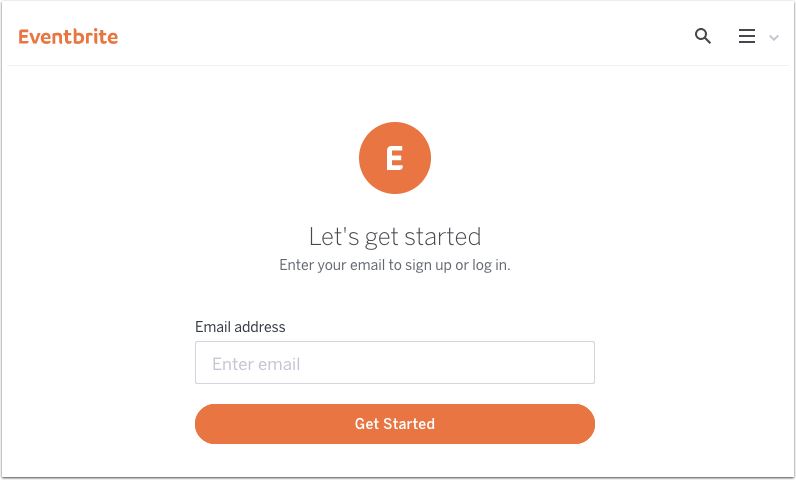 Click Allow to grant HubSpot access to your Eventbrite account and enable the integration. You will be automatically redirected to the integrations page.
You can add your Eventbrite registration data to HubSpot contacts for segmentation and scoring purposes. Once you enable sync for a particular event, any changes to event registration data will stay up-to-date in HubSpot. To enable syncing for an event, click toggle the Sync switch on.
Please note: by default, sync is disabled for existing events.

Your event data is now syncing to HubSpot:
Any new events you create in Eventbrite will sync automatically. You can disable this option by unchecking the Automatically sync new events box on the Eventbrite settings screen in HubSpot.
You can disable syncing for any event at any time by toggling the Sync switch off.
You can start building lists, creating workflows, and making your marketing more contextual right away.
You can disable the integration at any time from the Eventbrite settings screen in HubSpot.