Automating lead rotation saves time and bandwidth, and you can automate your lead rotation in HubSpot using workflows.
Rotating your leads with a workflow will evenly distribute incoming contacts to specified contact owners. The lead rotator will randomly assign leads to whichever owner has the lowest lead count. Because more than one owner could have the lowest lead count at a given time, all owners will come out with the same number of leads from the lead rotator action, but the order in which they're assigned those leads may vary.
A lead rotation workflow will not assign a lead owner to a contact if that contact already has an assigned contact owner. Additionally, this workflow cannot be set up to evenly distribute leads among users for any custom HubSpot user field type properties.
Please note: only users who purchased Marketing Professional or Enterprise before November 1, 2017 will have access to the Sales Professional workflow actions, including the Rotate leads action. Users who purchased Marketing Professional or Enterprise after November 1, 2017 will also need to purchase Sales Professional to gain access to the Rotate leads action.
In your HubSpot Sales Hub Professional account, navigate to Automation > Workflows.
From the workflows dashboard, click

Create workflow

in the upper right or click the

name

of an existing workflow.

On this screen, enter a name for your workflow and select Start from scratch as your workflow type. Then, click Create workflow at the upper right.
Decide on your enrollment triggers (e.g., Contact Property | State/Region | is equal to...). If you'd like to assign ownership for contacts who already meet the criteria of your starting condition, check the box next to Enroll contacts who already meet this criteria. Click Save to save your enrollment triggers.
Click the + button below the starting condition you created to add an action.
Select Rotate leads as your action.
From the Assign a contact owner dropdown menu, you can select Specific people to distribute leads among specific contact owners. You can also select A team to rotate leads evenly among a specific team.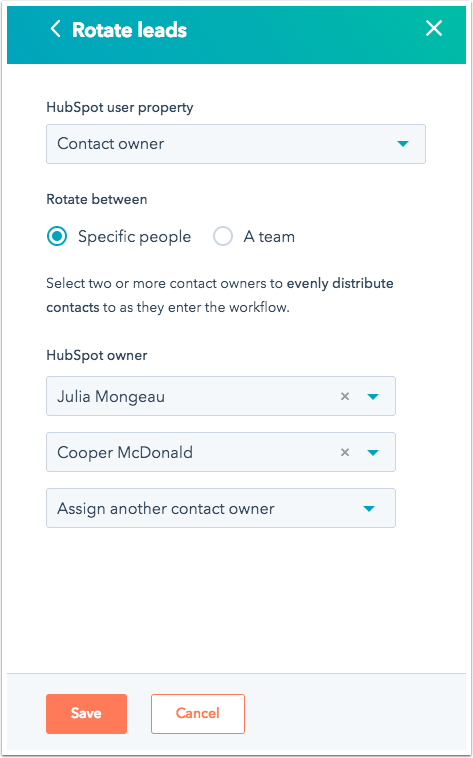 Add other actions as needed. When you're ready to take your workflow live, click Review in the upper right-hand corner.
Review your workflow settings and click Activate to turn your workflow on.
Please note: if you add or remove contact owners from the rotate leads action after your workflow has been turned on, the distribution assignments will reset and the random assignments will start again. Newly enrolled contacts will be rotated to all of the selected contact owners or team members evenly, regardless of the rotation assignment counts for previously enrolled contacts.

If you include more than one rotate leads action in your workflow, the actions will execute independently of one another. Ownership will be distributed to all contact owners in each action evenly, but distribution percentages from other actions in the workflow will not be taken into account.