Please note: if you're having trouble making calls to other countries using Twilio connect, review your geo permission settings in Twilio.
In your HubSpot account, click the settings icon

settings

in the main navigation bar.
In the left sidebar menu, n

avigate to

Sales

>

Calling
In the Twilio Connect section, click Connect an account.
You'll be redirected to Twilio to create an account or log in to your existing account to authorize the connection to HubSpot.
Once your Twilio account is connected, you'll be redirected back to HubSpot. To register your phone number so you can start making calls, in the Twilio Connect section, click Add phone number. Complete the phone number registration process with Twilio.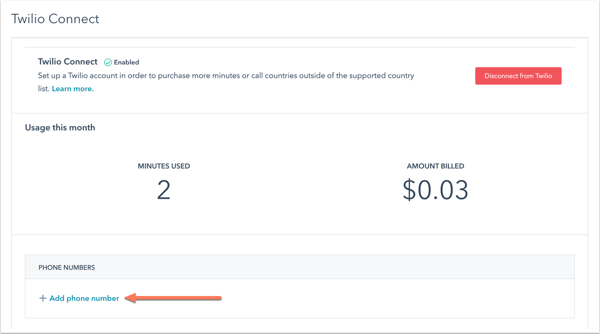 Please note: if you get an error when registering your phone number with Twilio, contact Twilio Support for assistance. You will need to work with Twilio directly to get your number registered before you can make calls from HubSpot.
When your phone number is successfully registered with Twilio, you can start making calls using minutes from Twilio. You can view the number of calling minutes used and the amount billed for the month in the Twilio Connect section. Learn more about making a call using a third-party provider.
Please note: Twilio's pricing varies based on the location of the caller and the call recipient. There is no additional charge from HubSpot if you're using Twilio Connect minutes.