Most microphone issues experienced when making calls in the CRM are due to settings or configurations in your computer or browser. Review the following troubleshooting steps if you are experiencing difficulty with your microphone.
1. Test your audio device using Online Mic Test to check if the issue is specific to your browser or device.
2. Verify that your microphone is allowed in your browser. Learn how to check that your microphone is allowed on Chrome and Firefox.
Please note: calling is not supported on Safari or Microsoft Edge.
3. When you make a call, HubSpot will default to using the speaker and microphone option selected in your device's audio settings. If you connect a different speaker or microphone to make a call, click the Audio dropdown menu and select the microphone or speaker device you want to use. Otherwise, the call will be made using your device's default audio settings.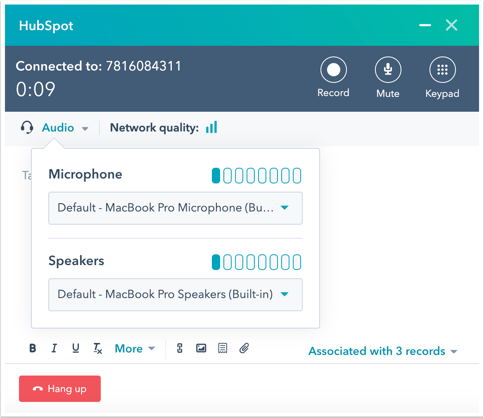 4. Try making calls on a different network. If you're using your office network, try to call using your home or mobile network with the same device. If the issue seems to occur only on a specific network, your internet connection is likely causing the issue.
Learn more about the technical requirements to use the sales calling tool.