When composing a sales email template or a snippet, use tokens to personalize the content based on the recipient.
In your HubSpot account, navigate to templates or snippets.
Click the name of the template or snippet to edit, or create a new template or a new snippet.
Click into the body of your template or snippet where you want to insert a personalization token.
Click the Personalize dropdown menu.
Click the Type dropdown menu and select a property type. You can insert a token that populates with values from a contact, company, deal, ticket, or sender (HubSpot user) property.
Use the

search bar

to locate and select a specific property.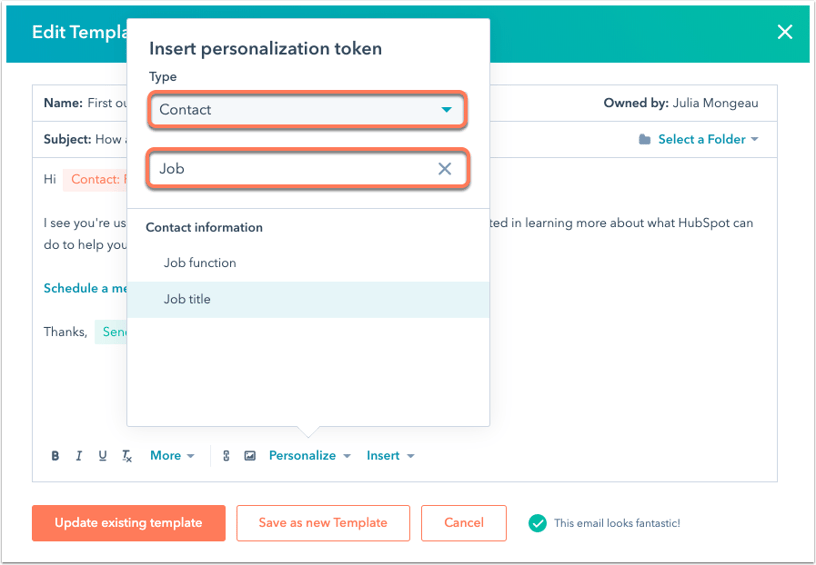 Please note: creating a sales template or snippet with curly brackets instead of personalization tokens causes issues with HubSpot's rendering service. Before saving your template or snippet, remove any curly brackets.
The property type tokens will populate with the corresponding property value.
Please note: if you want to add the name of your contact's associated company to your template or snippet, you should add the company token, Name (or Account Name if you are Salesforce integrated). This is different from the contact property, Company Name. Learn more about the difference between these two properties.

When more than one deal is associated to a contact, the deal personalization token will show the value of the most recently created deal.