Under the General Data Protection Regulation (GDPR), an individual saved as a contact in your HubSpot contacts database has the right to request that you delete all the personal data you have about them. In these cases, the GDPR requires the permanent removal of their contact record from your database, including email tracking history, call records, form submissions, and other engagement data and activity.
You'll typically need to respond to these requests within 30 days. The right to deletion is not absolute, and can depend on the context of the request, so it doesn't always apply.
Please note: while these features live in HubSpot, your legal team is the best resource to give you compliance advice for your specific situation.
To perform a GDPR-compliant deletion in HubSpot, GDPR must be enabled in your HubSpot account. Once this is enabled:
In your HubSpot account, navigate to Contacts > Contacts.
Click the name of the contact. Please note that GDPR-compliant deletions can only be performed on individual contact records. You

cannot

perform GDPR-compliant deletions in bulk using lists of contacts or workflows.
Below the contact's name at the top left, click Actions > Delete.
In the dialog box, select the option for Delete this contact and all its associated content to follow privacy laws and regulations. Then click Delete.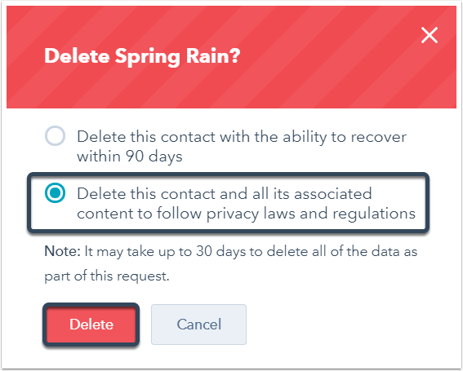 Up to 30 days after this deletion is initiated, a GDPR-compliant purge will be performed, where the contact record along with the below information will be removed from your HubSpot account:
Salesforce connector
Contacts data
Analytics data
Calling data
Form submissions
Feedback data
Integrations data
Emails
Notifications
Meetings
Engagements
Conversations
Bots
What happens if the deleted contact is added to my HubSpot account again?
The GDPR delete also involves a blacklist functionality, which will notify you in-app if you try to add a previously deleted contact to your HubSpot account again. This functionality is supported by anonymized data.